This is a comprehensive Phemex review that will show you all perspectives of the Phemex exchange.
So let us begin.
Phemex is a cryptocurrency exchange that is relatively new but has the ability to compete with top cryptocurrency exchanges like Binance and others.
Phemex from Singapore was launched on 25th Nov 2019, gaining fame very fast and has a unique characteristic of the zero-fee trading model where traders are not charged per every trade they make.

Phemex is currently offering spot and derivative trading.
Spot trading pairs include BTC/USDT, ETH/USDT, XRP/USDT, LINK/USDT with many more pairs coming very soon.
Derivate trading present six cryptocurrency perpetual contracts that involve BTC/USD, ETH/USD, LTC/USD, XTZ/USD, XRP/USD, and LINK/USD.
In addition, Phemex is also giving non-crypto trading pair of  GOLD/USD  and many more assets like  S&P 500 stocks, Forex, commodities, energy, stock indexes are coming soon.
The enhancement of such pairs will make the value of this exchange sky high.
Read: Best Cryptocurrency To Invest In 2020-The Top Nine
The trading volume of Phemex exchange has been remarkable as the exchange is only a few months old but achieving a number of above fifty in exchange list on coinmarketcap as per their volume is something that many crypto exchanges cannot achieve in years.
Read Also: Top 200 Cryptocurrency Blogs
Phemex team with a mission of Enabling everyone to control risk in trading and trade easily and vision to become the best reliable cryptocurrency and derivatives exchange is based on administrators from Morgan Stanley BXS and EAI teams who have more than over forty years of expertise in producing high-frequency technology with tremendous confidence.
For more details please visit:
[maxbutton id="8″ ]
Phemex Review-Phemex Main Attributes
Phemex main features are:
Phemex cryptocurrency exchange is designed and supported by top Ex-Morgan Stanley Managers.
You can buy cryptocurrency directly from your Credit, Debit cards, or Bank account.
Premium accounts pay no trading fees on spot trading.
 The user interface is self-explanatory, simple to use, and perfectly designed.
If your withdraw amount is small then you do not need any KYC.
Distinguished top-level wallet, system, user account, and trading system security.
Ability to make sub-accounts.
Easy to generate and use API keys.
Leverage trading possible up to 100x.
No deposit fees and string insurance for trading.
Read also: What is Bitcoin and How Does it Work
Phemex Products in our Phemex Review
In our Phemex review, we will thoroughly lead you to the services phemex is offering.
Phemex exchange is offering a variety of products to attract new customers and establish herself as a renowned crypto exchange. Some of the main highlights of Phemex are:
Phemex User Interface
Phemex is offering a very unsophisticated user interface that is straightforward to practice but fully furnished with the latest technical indicators and Tradingview charts.
Read Also: How to Buy Bitcoin Cryptocurrency
Users can trade on Phemex web-based trading platform and also have the luxury to do trading on Phemex mobile app.
The main view of Phemex exchange is the build-up of several windows that include Place order, Order book, Main chart, Depth chart, Recent trades, Active orders, conditional orders,  Fills, Order History, and Action.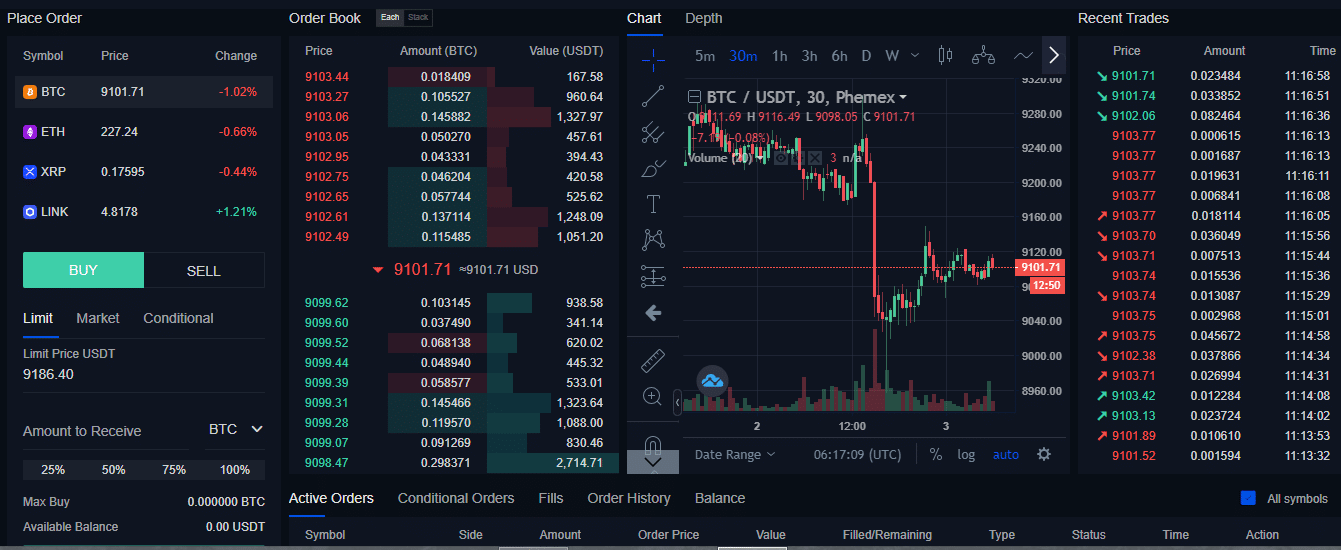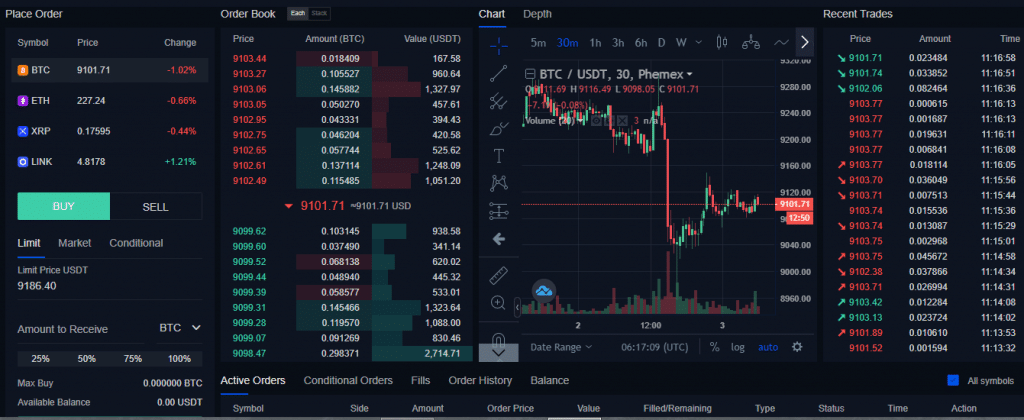 All windows are designed on drag and drop option, you can place any window of your trading Phemex screen to any place you want.
All charts are based on Tradingview, Tradingview is a leader in providing chart solutions to exchanges.
All the Tradingview charts are adorned with the latest technical indicators that a user can demand to examine the price movement of its coin.
Each Tradingview chart can be customized according to trader choice of timezone, Time interval from one-minute chart to one year, insert alerts like RSI below 14 Alert, Add favorite coins to the watchlist, and much more.
From a long list of recent trades, users can effortlessly get an idea of buying or selling activity on the market.
The last window at the bottom of the page gives you thorough details of your placed orders, trading history, and orders that are not filled.
From the option of "Select Market," users can very comfortably pick between Spot trading and contract trading according to their trading requirements.
Phemex Fiat Payment Support
Most recently Phemex has added support to buy cryptocurrencies from Fiat.
Phemex is leaving behind from none of any other cryptocurrency exchange in terms of services offered, they are instituting very swiftly and desire to give their competitors a really hard time by giving extraordinary assistance to their users.
Adding fiat support to buy cryptocurrencies is remarkably uncommon for an exchange that is very new in crypto space.
Read: Top 17 Best Crypto Trading Bot
But the team behind Phemex seems to work day and night to implement the best solution to its users.
Phemex has partnered with Banxa, Koinal, Coinify, MoonPay, and Simplex to buy cryptocurrencies with
Visa
Mastercard
China Unionpay
Bank Transfer
SEPA
POLI
Bpay
PayId and
IDEAL
At the time of writing Phemex users are now able to buy
Bitcoin
USDT
Ethreum
Ripple and
Chain Link
from following fiat currencies
USD
EUR
GBP
AUD
CAD
CZK
DKK
HKD
NOK
PLN
RUB
SEK
SGD and
TRY
All phemex fiat payment support partners are well known and influential in providing state of the art solutions to protect user's sensitive data and payments by deploying most advanced fraud monitoring and exceptional encryption technologies.
This is an unusual accomplishment for Phemex, The exchange can very easily become one of the top cryptocurrency exchange if such services are administered so instantly.
Also Read: Cryptohopper Trading Bot Review
Phemex Spot Trading
In this Phemex review, we found that most remarkable feature of Phemex spot trading is the initiation of zero spot trading fees, such innovation has never been proposed by any exchange before and this specialty may take Phemex sky high if this exchange is able to provide encouraging trading volume and trustworthy security to its customers.
Read: 3Commas Crypto Trading Bot Review
At the time of writing Phemex is offering spot trading in Btc, Eth, Link, and Xrp against Usdt with many more pairs to come in the future.
Spot and Contract trading on Phemex have five order types
Market order
limit Market order
Conditional order
Stop-loss order
Take-profit order
Conditional orders are available to premium members only, Standard users can not enjoy the facility of conditional orders.
One of the main hallmarks is the availability of stop loss and take profit orders, Even many advanced crypto exchanges are not loaded with such type of orders.
These orders implement security in trading and avoid heavy losses or missing an opportunity to take profits.
With such types of orders, crypto traders don't have to sit in front of their trading devices watching them 24/7 to avoid any losses or taking profit possibilities.
Traders can adjust their stop losses or take profit orders at 25%, 50%, 75%, and 100% accordingly.
Phemex Contract Trading
Contract trading or in simple word leverage trading on Phemex is another main distinctiveness of Phemex.
Most exchanges originate only with spot trading and as they grow they advance to leverage trading.
Phemex on the other side is not only starting with 100x leverage trading but also implementing zero trading fees to its premium customers emerging as a strong contender in the exchange market.
In Leverage trading, users can borrow money to buy or sell any available assets from that exchange.
Read also: What is cryptocurrency staking
Its a type of loan from the exchange to buy or sell more assets that a trader normally would not be able to purchase on its original capital.
100x leverage means that a trader can buy any available assets from exchange 100x time more than his original capital and the profit and loss ratio will be according to the leverage exercised on that particular trade.
Leveraged trading has become extremely popular in cryptocurrencies but such type of trading is also highly criticized and deemed a significant obstacle in the price increase of cryptocurrencies.
After the start of leverage and margin trading in cryptocurrencies, Crypto whales are able to make profits on both sides of a trade.
Whales make profits by reducing prices of coins and they also make profits when the price increases.
Before leverage and margin trading originated there was only one way to make profits and that was to increase prices.
That's why before 2018 cryptocurrencies have seen phenomenal growth in prices.
At the time of writing Phemex is offering leverage trading in Btc, Eth, Xrp, Link, Xtz, Ltc against USD.
All underlying assets can be settled against USD or BTC.
A non-crypto asset Gold/Usd is also available for leverage trading and many more assets like  S&P 500 stocks, Forex, commodities, metals, stock indexes are coming soon.
Read Also: Best 12 Profitable Staking coins List and Exchanges
Phemex Testnet
Phemex also offers simulated trading or testnet so that traders can readily familiarize themselves with Phemex exchange.
This salient quality is very useful for traders that are new to trading and want to learn and practice trading by testing their trading strategies on a testnet environment and to get accustomed to every function of exchange.
Phemex Premium Membership
In this Phemex review let see what Phemex is offering in its Premium Membership?
Premium membership is the choice that is usually not part of cryptocurrency exchanges.
But Phemex is allowing premium membership with loads of advantages.
The most unusual benefit for premium members is that they can avail zero spot trading fees, Have access to conditional orders, can withdraw hourly with no withdrawal limits, and more.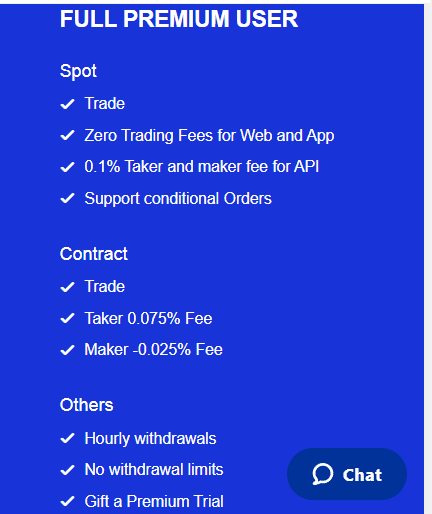 How to become a Premium Member?
There are two approaches to become a premium member of Phemex.
You can make a direct purchase to become a full premium member or complete some tasks to get a thirty-day premium trial.
Making a direct purchase is easy, you only need to pay 9.99 dollars per month, 19.99 Dollars per 90 Days, or 69.99 Dollars per year to experience all the privileges of Premium membership.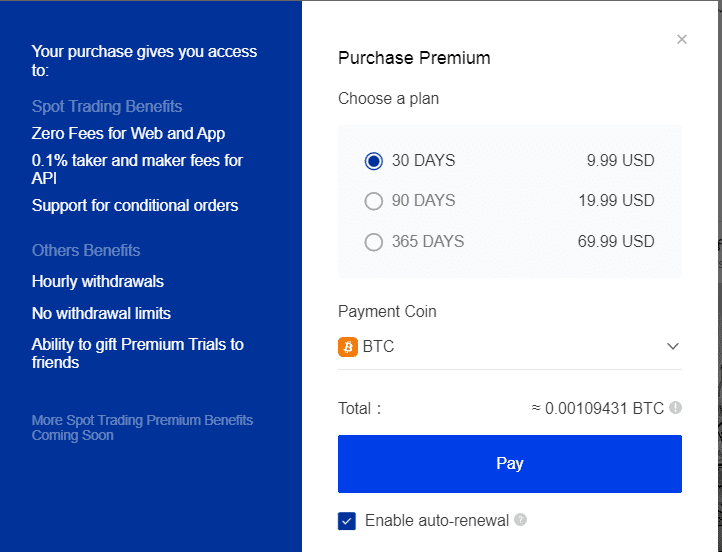 All payments can be made by deposition BTC, USDT, and other popular coins.
The other technique is to get thirty days of premium membership trial by completing some easy tasks.
Invite at least one friend to join Phemex.
Deposit BTC greater than 0.02BTC.
Make a contract transaction on the BTC/USD pair of more than 1000USD.
Phemex premium membership is not at all expensive when you have the influential compensation of zero spot trading fees while executing unlimited spot trades, You can Try your 30 days Phemex premium membership trial.
Phemex Bonus
Again a very compelling feature for its new users. Phemex offers some attractive bonuses and such traits show Phemex exchange dedication and love to its customers.
There are two types of bonuses on Phemex that can get you 80 Dollars.
Deposit Bonus
Trading Bonus
Phemex Deposit Bonus
If your single deposit is greater than or equal to 0.2 BTC or
USDT ≥ 2000
ETH ≥ 10
XRP ≥ 10,000
LINK ≥ 500
Then you are qualified for a 60 Dollar Phemex Deposit bonus.
Phemex Trading Bonus
You will get ten Dollars if you place a single spot order that is greater than or equal to 500 USDT.
You will get another ten Dollars if you place a single BTC/USD contract order greater than or equal to 5000USD.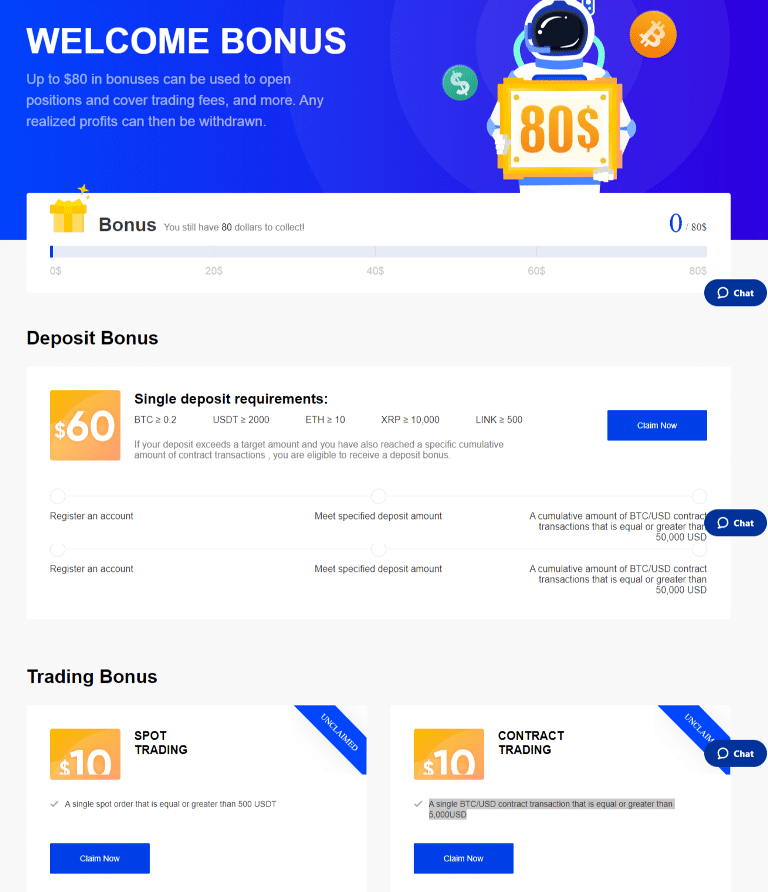 We are not certain how long these Phemex bonuses will continue, as these bonuses may change with time.
Read in Detail: Dogecoin Mining-How To Do it Properly-Is it Profitable?
You cannot withdraw the Phemex bonus, You can use the bonus sum for trading and earn profits or cover your losses.
However, you can withdraw any profits earned by your bonus amount.
To Get your Phemex bonus now
[maxbutton id="8″ ]
Phemex Sub-accounts
we are giving an overview of Phemex sub-accounts in this Phemex review.
The presence of the sub-account feature at the very start of the exchange shows the concentration and delegation of Phemex exchange to become a prominent one.
Sub-accounts allow traders to make accounts under their main account. Traders use these sub-accounts to separate trading strategies from one another.
More advanced traders surely prefer sub-accounts where they can implement different trading strategies and fully examine their results.
Phemex also enables automated trading on these sub accounts meaning users can connect their trading bots with these accounts to do trading on their behalf.
Users are also permitted to move funds freely one sub-account to another.
Phemex Puzzle
In this Phemex review, let us have a look at the puzzle by Phemex which if solved can lead to prizes.
For fun, Phemex has two puzzles to get solved by you, but the fun gets more interested when you will receive 100 USDT in trading bonus and 1 BTC in your Phemex account if you correctly figure out the private key from the Phemex puzzle.
Phemex puzzle's main intention is to educate its users about the significance of storing and protecting API keys cautiously.
Visit Phemex puzzle
[maxbutton id="8″ ]
Phemex Review-Phemex Fees
Phemex is giving a very ambitious fee structure. They are trying to facilitate their users by reducing the trading fees.
Zero Spot Trading Fees
The cryptocurrency exchange market is becoming very competitive. With top exchanges like Binance, Coinbase and others it is not at all easy to step in exchange competition.
To compete with exchange giants there was a need for such an idea that can inspire traders to start trading on an exchange that is new among crypto exchanges.
Read Also: How To Trade Cryptocurrency-Best Cryptocurrency Trading Strategies
Phemex not only thought a splendid idea to contend with the best cryptocurrency exchanges but also implemented it, the idea is to provide zero spot trading fees.
With as little as 9.99 Dollars per 30 days or 69.99 Dollars for a year any premium user can enjoy zero spot trading fees on countless trades.
There is no limit on trading volume or quantity of trades per month or per year. Become a premium member and do as much spot trading you like with zero fees.
Phemex Trading Fees
As promised and fulfilling their mission statement of becoming top cryptocurrency exchange, Phemex charges only 0.025% maker fees and 0.075% taker fee.
Taker fees are more as contrasted to maker fees because the exchange is trying to provide higher liquidity and therefore want its users to fill the order books by placing buy-sell orders.
Phemex Funding Fees
Funding fees are the fees that are paid to traders that have placed short or long positions depending upon funding rate whether it is positive or negative.
Funding fees play a very major part when it comes to derivate trading. Higher funding rates discourage traders from keeping their long or short position open for a longer period of time.
Phemex does not charge an overnight fee, the funding fee is charged after every eight hours and it can be positive or negative depending upon the funding rate.
This means that if the funding rate is positive, long positions holders will have to pay some percentage from their trade amount to short position holders and vice versa.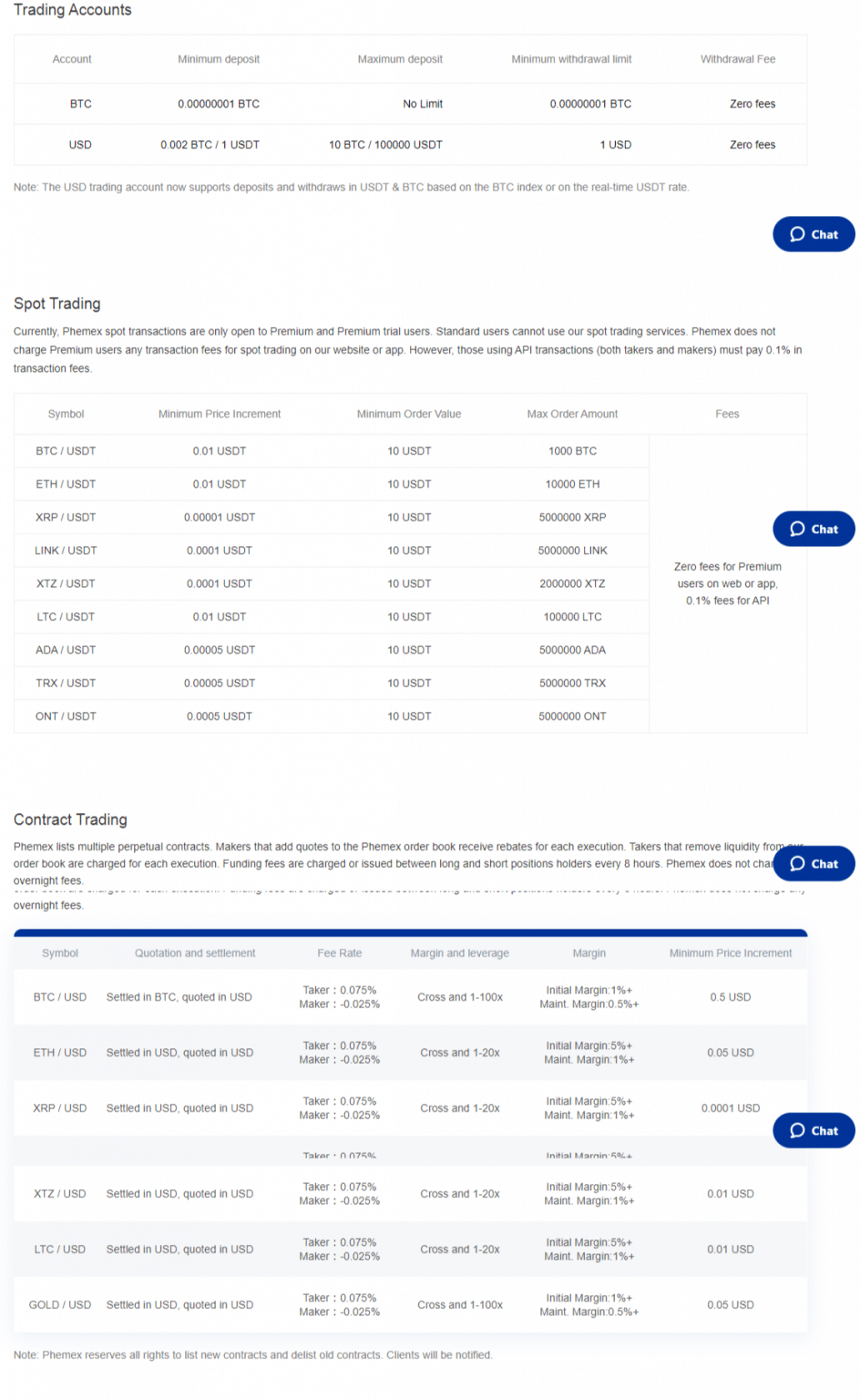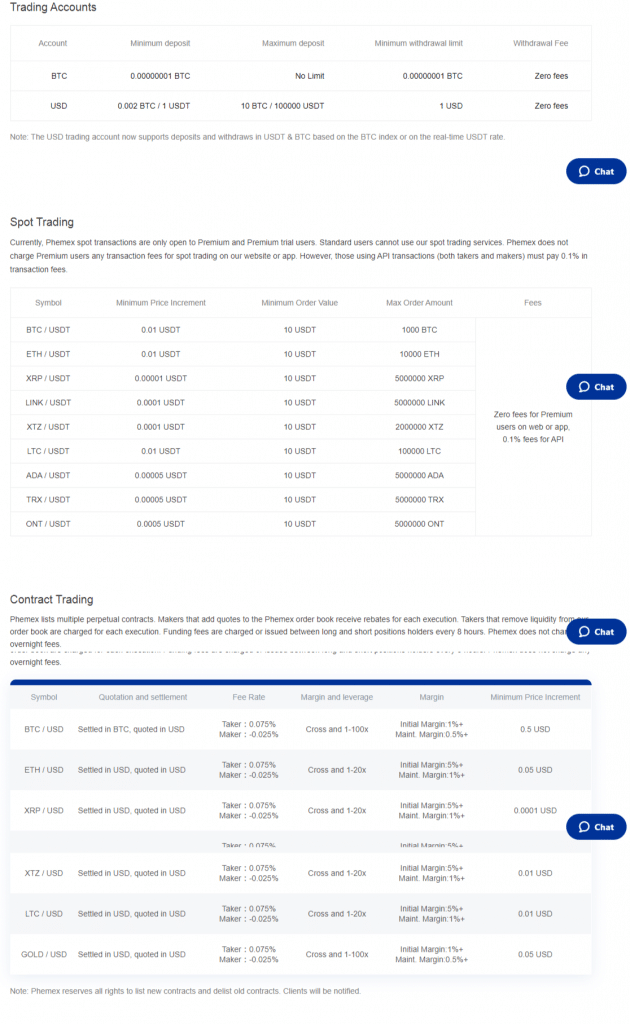 Phemex Deposit And Withdrawal Fees
Standard and premium trial users can only withdraw two BTC per day, whereas premium users have no withdrawal limit.
The withdrawal fees depend upon the coin you are withdrawing, For BTC the withdrawal fee is 0.0005 BTC, for ETH it is 0.006 ETH and so on
There are no fees for depositing cryptocurrencies.
For more information please visit:
https://phemex.com/fees-conditions#wallets
Phemex Vs Bybit, Bitfinex And Bitmex
In our Phemex review, we are going to weigh Phemex with its competitors.
Bitmex is considered a leader when it comes to leverage trading, but in recent times the leader has found himself in a very difficult situation when the market sees high volatility, and more and more users try to sign in to their accounts for trading, then BitMEX usually goes down.
Another flaw is that price fluctuation in the shape of long wicks up or down to liquidate shorts or longs on BitMEX are more than other derivate exchanges.
Read Also: Can you Buy Bitcoin At Walmart?
Because of such dilemmas, Phemex and Bybit have become more valuable and users are favoring these exchanges over Bitmex.
Bitmex provides margin settling in BTC and Bitfinex in USDT, Whereas Phemex provides margin settling in both USD and BTC.
Phemex support orders and positions to take profit and stop loss, whereas Bybit, Bitmex, and Bitfinex have only take profit and stop-loss orders.
Phemex has a mobile app but Bybit and Bitmex don't.


Phemex KYC
Till this time Phemex is not enforcing any KYC, Users are authorized to make an account without verification and deposit and withdraw Crypto at will.
Phemex has recently added fiat to crypto solution meaning that now you can buy cryptocurrencies directly from your Credit, Debit cards, or Bank account, KYC may become mandatory for users willing to buy cryptocurrencies with fiat.
As there are more and more regulations coming into crypto space, probabilities are that Phemex will need to implement KYC in the future for every user.
Phemex Deposit and Withdraw Procedure
Users can deposit and withdraw cryptocurrencies that include Bitcoin, Ethereum, Ripple, Tether, and Link.
Very recently Phemex has added support to but cryptocurrencies with fiat solutions, You can buy famous digital coins like Bitcoin, Ethereum, and others directly from Your bank account or visa, master cards.
Phemex Review-Countries Not Supported
Phemex exchange does not offer it services in the following countries
USA
Iran
Cuba, Quebec
Singapore
North Korea
Sevastopol
Syria
Sudan
And in any country where cryptocurrencies are legally banned in any form.
Security Measures On Phemex. Are They Enough To Keep Phemex Safe?
Phemex focus on exchange security is phenomenal. Cryptocurrency market is a major target for hackers since its birth and especially crypto exchanges are the juiciest part for hackers that they are always willing to taste.
To protect its reliability and user's funds Phemex adds extra security layers on four main parts to keep herself guarded and users protected.
First comes Phemex wallet security, Phemex collects all deposits in the company's multiple signatures cold wallet through offline impressions.
Each user is automatically given a discrete cold wallet address that is shielded by a Phemex specifically composed "Hierarchical Deterministic Cold Wallet System".
As the team has a wall street knowledge any withdrawal is monitored both by first end operators and then by founders to identify any discrepancy or false actions that are dealt with fast necessary steps to protect user's funds and Phemex platform.
Read Also: What is Ethereum-How Does it Work
All Phemex withdrawal transactions are carried offline, Withdrawal activities are processed three times a day and successful withdrawal applications are processed by offline signature.
Second, comes Phemex System Security, In many deprived areas that are forbidden by Phemex exchange, only whitelisted systems can reach the exchange.
The overall Phemex system is shielded by Amazon web service, where various timezones from all over the world are separated by there particular firewalls.
It's not only the firewall that grasps the system-protected, other than firewalls there are internal security management protocols that protect the entire system, distinguish time zones,  block red zones, or restrained areas and generate alarms on any suspicious activity.
Third is Phemex user account security, Phemex imposes "double-entry bookkeeping system" for its user account security.
Any activity on user accounts is exactly performed in two or more different accounts to check any interference with user trades or funds.
With the aid of this tool Phemex can instantly detect if a user account is being changed by a third party normally hackers, if so system will automatically stop all the activities of tampered account for its safekeeping.
Furthermore, User accounts are protected by a two-factor authentication method, Whenever a user wants to log in to its account, try to change its password, generate or modify API keys he will have to go through the two-factor authentication method for its account safety.
In the last Phemex trading engine Security, 
The phemex trading engines are divided into Phemex trading engine and Phemex cross engine.
Both engines have different duties to perform.
The CrossEngine job is to execute trading orders based on price and time preference.
The trading engine keeps a record of profit and loss, fees, computing power, costs, and much more.
Phemex opted for C++ to compose its engines because C++ is the most modern way to design trading engines.
As the crypto market is very volatile and prices can fluctuate in minutes, Crypto traders should be equipped with such trading engines that are very durable and agile to avoid any overloading in the time of high volatility.
The result is Phemex trading engines that are ten times faster as compared to other cryptocurrency exchanges that avoid any kind of overloading, signing in, and slow transaction processing problems in time of extreme market volatility.
Disaster recovery is another principal attribute of Phemex trading engine. The exchange is equipped with a specially designed recovery system that performs recovery actions, do maintenance and upgrades without putting a break to user activities on exchange.
Read Also: What Is Cryptocurrency Mining?
Phemex Support
Phemex support seems to be in a building process as there is no direct phone line present to contact support.
At the time of writing users have only email support or Phemex telegram to interact with the team.
Read Also: Coinrule Review-A Crypto Trading Bot Perfect For New Traders
The Help Center page contains useful info that can assist users, it has sections of FAQs, Popular articles, How to get started, User guides, Trading guides, and Phemex Blog.
Phemex Mobile App
Having a mobile app for trading at the beginning of your exchange carrier is again a fantastic accomplishment that most exchanges do not think of.
Phemex mobile app is free to download and is among the best app to do trading from your mobile. Smooth and straightforward to use this mobile app is available for both Android and iOS users.
Links to Phemex Mobile app
https://play.google.com/store/apps/details?id=com.phemex.app&hl=en
https://apps.apple.com/us/app/phemex/id1499601684
Conclusion
After writing so much in detail in this Phemex review there is not much to write anymore.
Phemex is really committed to providing the best solutions to its users, Users can exercise zero spot trading and are now presented with the choice to buy cryptocurrencies from Fiat.
Phemex security is amazing with so many hallmarks, The trading engines are very fast and responsive that can take a ton of loads at the time of severe market movements.
Good support plus a mobile app make users more relaxed and satisfied with Phemex.
Phemex is no doubt a legend in making, with such a professional team and fabulous traits Phemex will be a top cryptocurrency exchange very soon.
What are your thoughts about our Phemex review and Phemex exchange, Please let us know in Comments.
[maxbutton id="8″ ]
Follow Us on Twitter and Facebook.
Disclaimer: This content is informational and should not be considered financial advice. The views expressed in this article may include the author's personal opinions and do not reflect The Crypto Basic's opinion. Readers are encouraged to do thorough research before making any investment decisions. The Crypto Basic is not responsible for any financial losses.
-Advertisement-