In this Coinrule review, We discussed Coinrule pricing, features, How to setup Coinrule bot, Coinrule Rules, Exchanges and countries supported by Coinrule, Coinrule security measures, Partnerships, and much more.
Coinrule is a cryptocurrency trading platform that provides you the strength of automated crypto trading.
Coinrule is a cryptocurrency trading bot that intends to meet the requirements of mostly newcomers, who are not familiar with setting up a crypto trading bot and finds themselves in trouble when using complex trading bots.
Read Also: Can you Buy Bitcoin At Walmart?
The Coinrule is created in the style of lego toolbox that is very easily understandable to newcomers solving the problems and complexities that amateurs users face in setting up their trading bot.
On the other side, Coinrule is also perfect for  experienced cryptocurrency trader as well, they can design their own individual strategies and put them into action
Coinrule Team
Coinrule was created in Dec 2017 and is based and registered in the united kingdom and Wales with company number 11265766. The terms and conditions of the Coinrule comply with the laws of the UK and Wales.
Read also: What is Bitcoin and How Does it Work
Coinrule also maintains a registered office address at Fisher Close Flat 6, 2 Fisher Close, London, England, SE16 5AE
The Team has the following members
Gabriele Musella (CEO, Product)
Oleg Giberstein (COO, Growth)
Zdeněk Höfler (CTO, Architecture)
Daniel Kohout (Senior Software Engineer)
Ondřej Merkun (Full-Stack Engineer)
Kostya Safonov (Front-End Engineer)
Daria Shotra (Legal Operations)
Ruben Cisternino (Head of Trading)
Advisors
Tibor Turner (Executive Director, Markets MKB Bank)
Robin Bade (CEO Europe Mirum WPP)
Andrea Baronchelli (Reader of Mathematics City University – UCL Blockchain Centre)
Richard Lagrand (Programme Director Startupbootcamp)
The team is young but remarkably committed to the development and prosperity of Coinrule with the central mission of progressing and ruling in the automated crypto trading industry by making the best crypto trading bot that is simple to understand for newcomers and best result oriented for advanced users
For more details visit: https://coinrule.io/about.html
Key Features of Coinrule
The main benefit of Coinrule is that you do not have to be an expert in setting up a cryptocurrency trading bot. Coinrule permits you to set up your own trading rules without requiring knowledge of any coding or complex techniques of setting up the bots.
Coinrule is a web-based platform which means that you do not need to download the software, so simply have to log in into your account and start trading.
All successful crypto trading strategies like Scalping and RSI-based strategies, Trading of Golden Cross and Accumulating the profit strategies, Range trading and trend following strategies, Take profit and rebuy plus Buy the dip with stop-loss strategies are embedded in Coinrule
Coinrule works with more than ten supported cryptocurrency exchanges, you can connect your favorite exchange with the help of API integration and Coinrule will provide you with the most minimum latency time that is five hundred milliseconds to execute an order on your connected exchange with the platform.
To heighten its services and match up with the other trading bot platforms, Coinrule provides SMS notifications, Email Alerts, Telegram Signals, and also data encryption.
The platform uses Lego Box configuration design which is very easy to practice.
Customer support is fast and friendly, The team can be connected by Live chat, email, Facebook, or via Twitter. The official Blog of Coinrule contain helpful information and articles to guide the users, The FAQ's section contains the most common queries of users that are well answered in FAQ's
Read Also: How to Buy Bitcoin Cryptocurrency
[maxbutton id="7″ ]
Coinrule Pricing
Coinrule has four basic pricing plans. To buy any pricing plan payments can be made through Stripe or cryptocurrency. For Stripe payments, you need to enter your credit card details
Read: Key Points when selecting cryptocurrency exchanges
Four basic plans are as under
Starter Plan
It's a free plan and best for customers to test the platform, run, and customize their trading strategies, the main characteristics of the stater plan are:
One Exchange can be connected
$5k of Monthly Traded Volume
Two Live Rules
Two Demo Rules
Seven Template Strategies
Read: Binance Exchange Review, a mini-encyclopedia on Binance
Hobbyist Plan
The cost of the Hobbyist Plan is $29.99/month or $359 billed yearly, Main features of this plan are
Two Exchange can be connected
$5ok of Monthly Traded Volume
Sven Live Rules
Seven Demo Rules
Thirty Template Strategies
Live text notification and from Telegram
Read: Top 17 Best Crypto Trading Bot
Trader Plan
Trader plan cost you $59.99/month or $719 billed yearly, Trader plan and below mentioned Pro plans come with many options. Main Feature of this plan are:
Three Exchange can be connected
$5o0k of Monthly Traded Volume
Fifteen Live Rules
Fifteen Demo Rules
Unlimited Template Strategies
Live text notification and from Telegram
Access to Advance Indicators
1 to 1 training sessions
Free of cost access to Trader Community
Also Read: Cryptohopper Trading Bot Review
Pro Plan
Pro plan will cost you $449.99/month or $5,399 billed yearly, The pron plan provides you with Unlimited Connected Exchanges and Template Strategies. The main feature of the Pro Plan are:
Unlimited Exchange can be connected
$3 million of Monthly Traded Volume
Fifty Live Rules
Fifty Demo Rules
Unlimited Template Strategies
Live text notification and from Telegram
Access to Advance Indicators
1 to 1 training sessions
Free of cost access to Trader Community
Ultra-fast Data Socket
Read: 3Commas Crypto Trading Bot Review
Coinrule Supported Cryptocurrency Exchanges
All major crypto exchanges can be connected by Coinrule with API Integration. The exchanges that are supported by Coinrule are:
Binance Exchange
Binance US
Bitpanda Global Exchange
Bitstamp Exchange
Coinbase Pro
HitBtc Exchange
Kraken Exchange
Liquid Exchange
Poloniex
Exchanges that are coming soon on Coinrule are:
Bitmex
Bittrex
Kraken Futures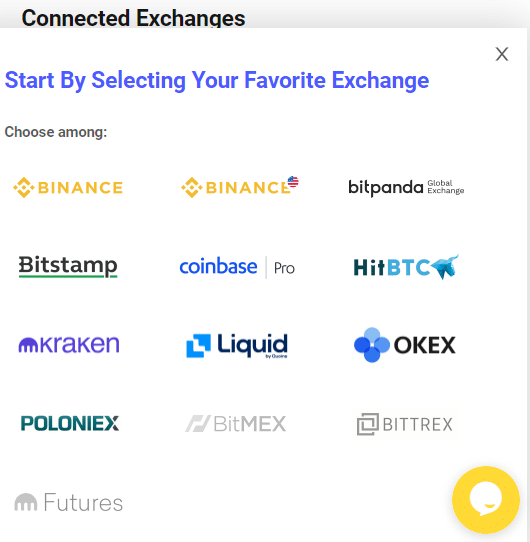 Read also: What is cryptocurrency staking
How To Use Coinrule
Coinrule is designed specifically keeping in mind the new cryptocurrency traders that are willing to use crypto trading bots but because of the complex setting requirements of trading bots, most new users do not risk to buy or invest in bots.
Coinrule is solving this problem by introducing a trading bot that is very easy to set up, Let's see in detail how to set up your Coinrule trading bot.
Read Also: Best 12 Profitable Staking coins List and Exchanges
To use and setting up your bot, first, you need to open an account with Coinrule
Creating an account is very easy and simple and can be done in one minute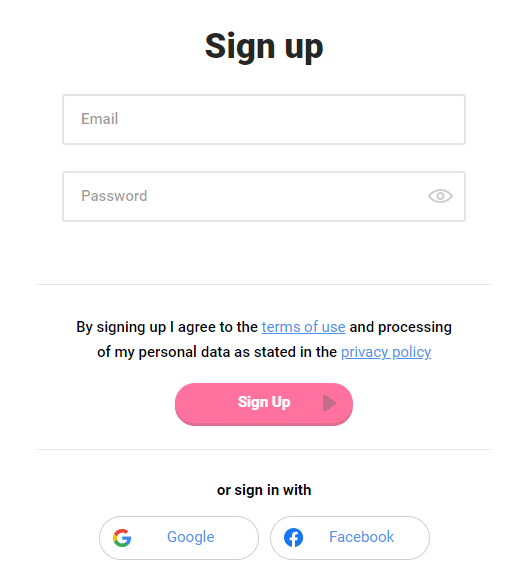 As shown in the above picture, you just need to enter your email and password to start using Coinrule, You can also create your account by your existing google or Facebooks accounts, By signing up you agree with the term of use and privacy policy of Coinrule, So it's always beneficial to read those term and conditions in details before signing up anywhere.
Read in Detail: Dogecoin Mining-How To Do it Properly-Is it Profitable?
After providing your email and password or signing up by Google or Facebook you will be sent an email containing a code to that you will need to enter to complete the signing up process as shown in the below image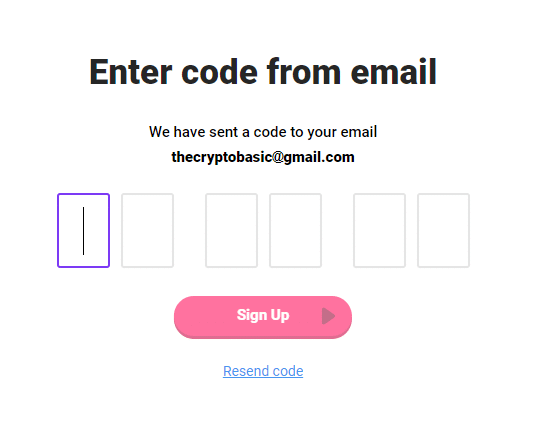 That's it, your account is now created with Coinrule
[maxbutton id="7″ ]
The Next Step in the process of doing automated crypto trading with Coinrule is to connect you favorite exchange with Coinrule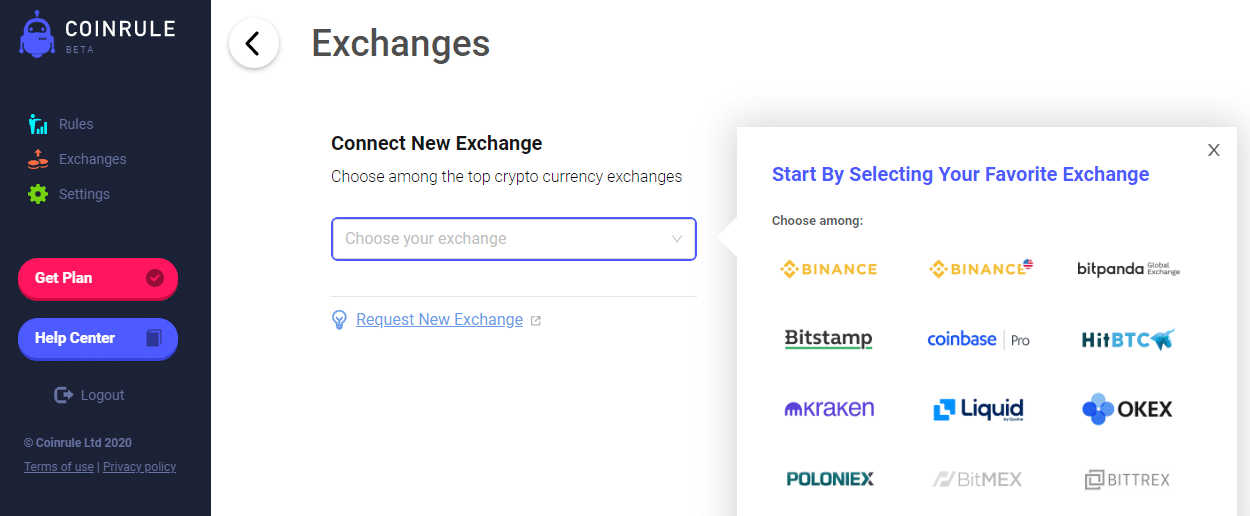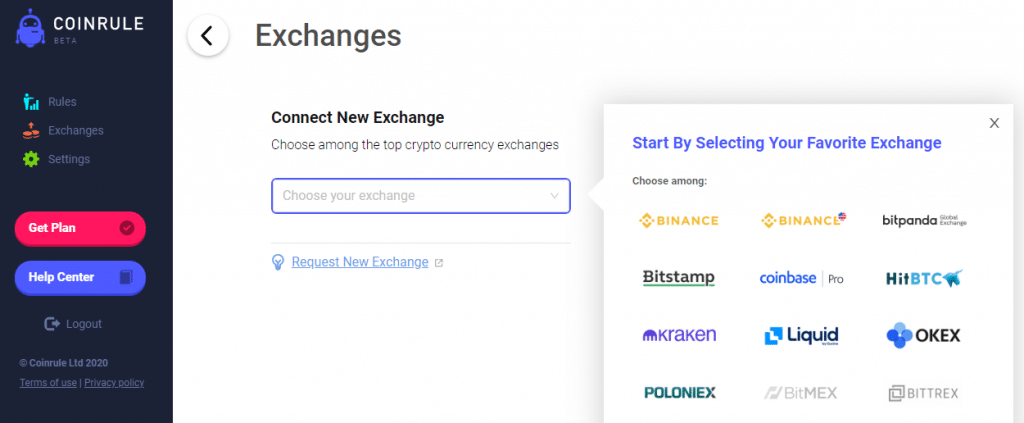 As shown in the above image, From the left side of the menu select "Exchange"
You can enter your preferred exchange and connect it with Coinrule by API Key.
Read Also: How To Trade Cryptocurrency-Best Cryptocurrency Trading Strategies
The API Key will be provided to you by your crypto exchange.
You can also see on the right side of the window, what exchanges are available that can be connected with Coinrule.
In this example, we will connect Binance exchange with Coinrule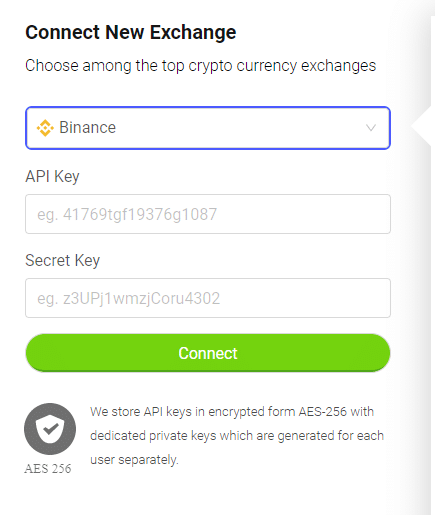 When you will select Binance exchange a window, as shown above, will open.
You need to enter the API and Secret Key to connect your Binance exchange with Coinrule.
Read Also: What is Ethereum-How Does it Work
The required information is available on your Binance exchange. To get that info login to your Binance
Go to API Management, a window as shown below will open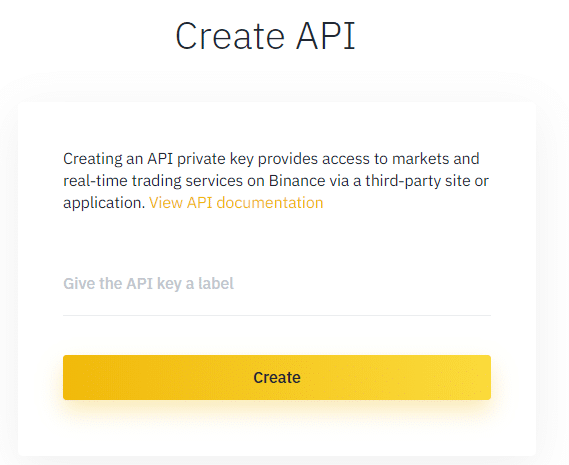 Give your API key a name and click on "Create".
Enter your google authentication code or code from your mobile number connected with Binance.
Read Also: What Is Cryptocurrency Mining?
A confirmation email will be sent to you regarding your API Key creation, go to your email account and confirm the email.
That's it, your Binance API Key is created.

You can also edit the limitation of your API keys, according to your specifications, but make certain that in case of trading with bots, never to tick "Enable withdrawals". By doing so bots will only be able to trade on your behalf with your connected exchanges and they will never be able to withdraw your funds.
Now in the Final Step enter your Binance API Key and Secret key in Coinrule and click "connect"
Your Binance exchange will be connected to Coinrule
How To Apply Rules
Applying rules or creating new strategies with Coinrule is easy and simple. Click on the "Rules" options on the right side of your Coinrule dashboard to open "rules" options.
You can set your trading strategies by "if/then" parameters which are easy to understand especially for new users
By clicking on rules from the right side of you Coinrule Dashboard the following window will open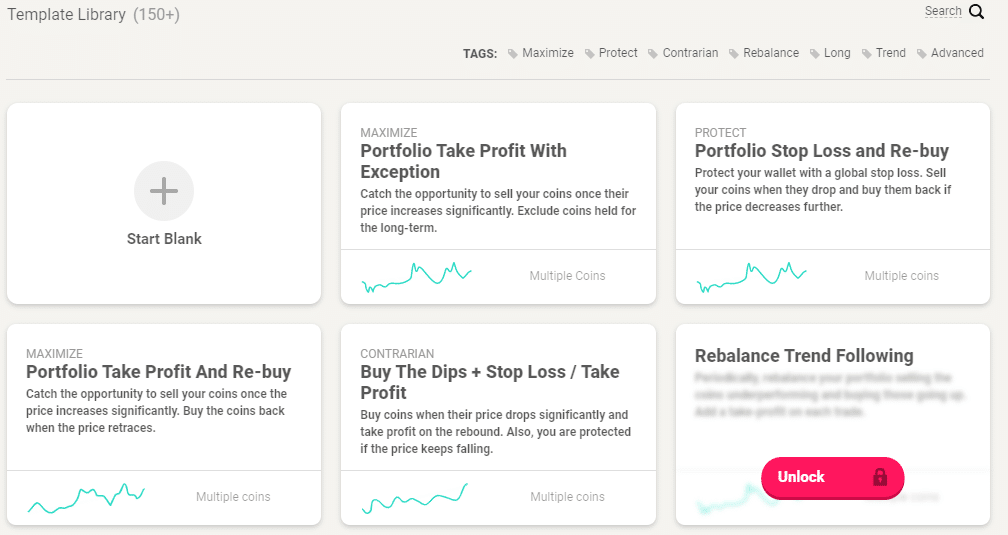 As shown in the above picture, four rules are open in Demo account
Portfolio take profit with exception
Profit stop loss and rebuy
Portfolio take profit and rebuy
Buy the Dip + Stop Loss/ Take Profit
Three more rules will be unlocked once you connect your exchange, and when you go premium you unlock even more rules
In this example, we are going to set up "Buy the Dip + Stop Loss/ Take Profit"  Rule
Buy the Dip: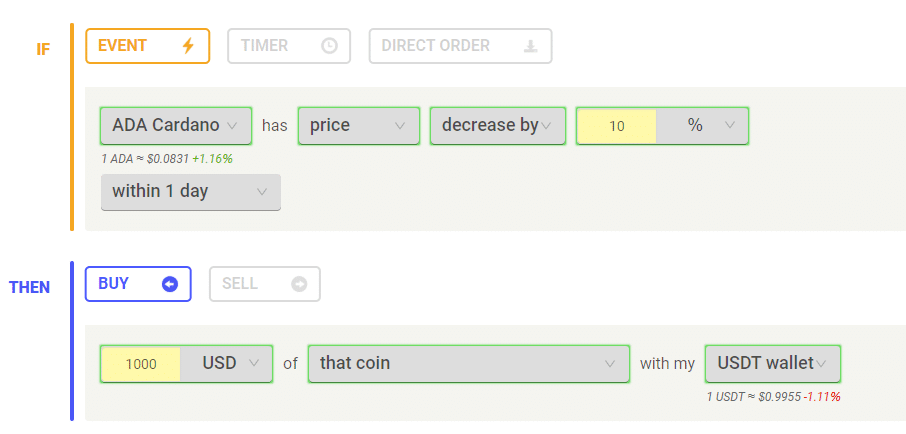 The "IF" Section:
Focus on the "IF" section on the above image
In the "Event" section you can select any coin you want to trade, in this example we have selected Cardano.
Select the "price" option to buy your preferred coin, Here instead of the price you can also select RSI or Moving Averages to buy any coin from the dip.
In "decrease By" you can also pick other options if you have selected RSI or MA instead of Price.
There is a percentage option, you can choose how much percentage the coin drops where you are willing to buy it.
In the end, you can select the time frame from one minute to one year, We have selected 1 Day option.
Now comes "THEN" section
Here You can select wallets from BTC, ETH, BNB, BUSD, USDT, etc, to purchase any coin.
With BTC wallet you will be able to purchase coins with BTC and so on.
You can also determine the principal amount to buy any coin, We have selected USDT wallet and our principal amount for this trade is 1000USDT
Let's complete the Sentence in "BUY THE DIP"
" IF" Cardano Price Decrease By 10 Percent Within 1 Day
"THEN" BUY 1000 USDT of THAT COIN (Cardano in this example) With my USDT Wallet"
That is how simple it is to set up your trading bot and trading rules with Coinrule.
You can also select the "Timer" tab to set your trades according to specific time and date or you can place "Direct Orders"
TAKE PROFIT Section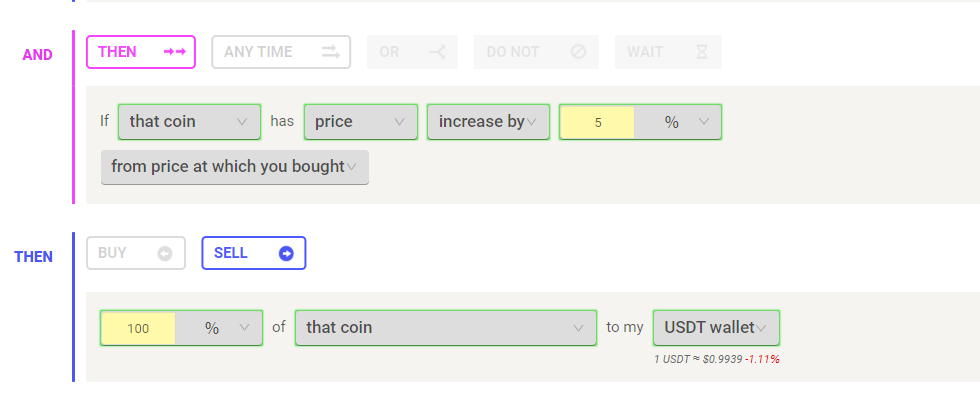 Let's continue our example of  "Buy the Dip + Stop Loss/ Take Profit"  Rule
It is time to set up your take profit command after buying Cardano from the Dip in this example
In "Take Profit," you can set what profit percentage you want to make, in our example, we have set our profit percentage to 5 percent.
If the price of Cardano increases by five percent we are happy to take our profit and sell ADA.
Here in "THEN" section, you can set what percentage of coins you are prepared to sell, do you want to sell 100 percent of your coin, 25, 50%, or whatever number of coins you are ready to sell at your locked profit percentage.
You can further adjust your wallet that is after selling your coin do you want a return in BTC, BNB, USDT, BUSDT ETH wallet, etc
We have selected USDT wallet
Read The complete sentence
"AND THEN
If That coin (Cardano in this example) has price Increase by 5 % from the price at which you bought,
THEN SELL
100 % of that coin to my USDT Wallet"
So in this example, we will be trading 100% of our Cardano at 5% price increase after buying at 10% dip with 1000USDT
Stop Loss
In the end, you need to set your stop loss if the price of your purchased coin keeps on falling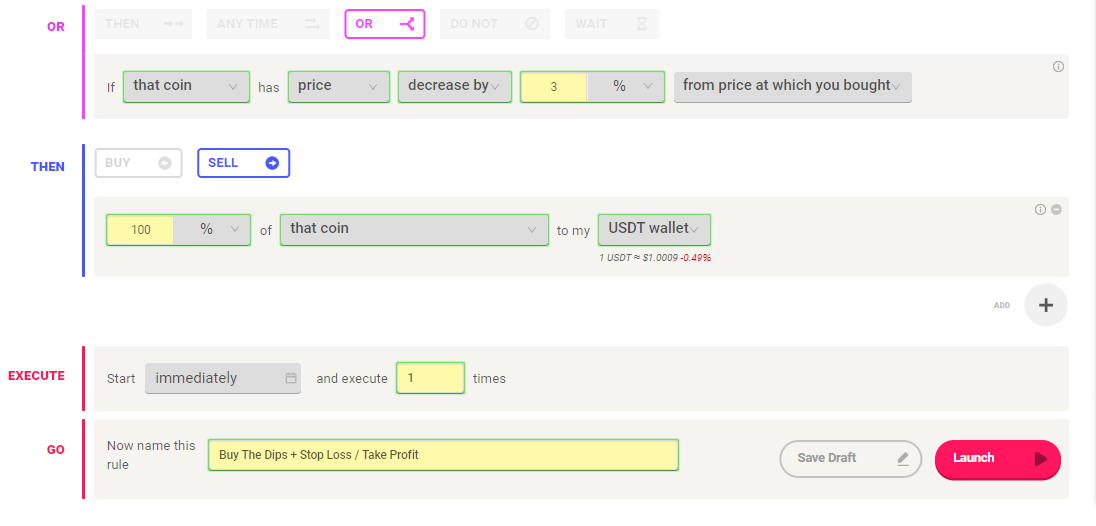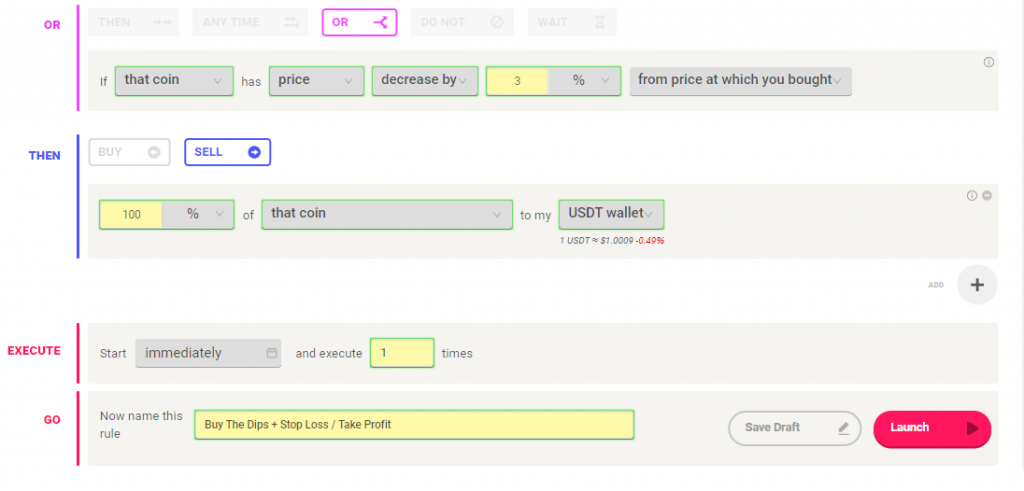 As shown in the image we have set the Stopp loss condition that if the price of Cardano falls 3% from where we have bought it, our Coinrule trading bot should sell it 100% against USDT
Now by clicking "Launch" our "Buy the Dip + Stop Loss/ Take Profit"  Rule will begin performing, with the above set conditions
Coinrule also summarizes the entire process of setting up any rule on the right side of your dashboard, in this example, The complete order is presented like:

That's it
I hope you will find the process very manageable, engaging, and easily understandable, none of the other crypto trading bots have such an uncomplicated and straightforward interface that uses only IF and THEN commands and compile the complete story of your trading rule on the right side. That's why coin rule is perfect for new users to apply and setup. You can set any rule or even make your own rules by Coinrule.
[maxbutton id="7″ ]
Coinrule Demo Exchange
With this trait of Coinrule users can easily utilize the platform and test their trading strategies, Coinrule provides current prices of coins from crypto exchanges in their Demo exchange so any trading rule can be executed and checked thoroughly.
Once users know how to use Coinrule and are capable to successfully design or administer builtin trading strategies then they can move to premium packages.
Coinrule Security Measures
Coinrule takes security very seriously and in the crypto market projects that focus on their security measures have a strong chance of success in the future.
Coinrule uses advanced security protocols to protect its client's API Keys by encrypting them and then securely storing them in separated highly protected servers that are further encrypted with AES-256 security protocols.
Coinrule uses Cloudflare that serve as an additional layer of security against hackers, Furthermore, the interaction between the Coinrule user interface and Backend servers are encrypted by TLS 1.2 or higher.
The best thing about Coinfare is that you cannot connect API keys that have withdrawal rights enabled in their settings with your Coinfare account.
The objective of this characteristic is that Coinrule bot will have no right to withdraw any funds from your exchange. The bot will only do trading on your associated exchange.
Also, Coinrule follows European legislation, the General Data Protection Regulation to protect its user's data.
Coinrule Partnerships and Customer Support
Coinrule has partnerships with some leading firms in crypto trading. Its partners include Kraken, Bitpanda Pro, RBS, Crypto Mondays, KAIKO, and others. Such partnerships increase the worth and reputation of  Coinrule.
Visit partners in detail: https://coinrule.io/about.html
The customer support is active and fast, Support can be connected by email, Live chat, Telegram, Facebook, or Twitter, also users can contact support by a direct line.
Coinrule help center includes some helpful information about the trading rules, Getting started, Exchange guidelines, FAQ, and other valuable stuff.
For more details visit: https://coinrule.io/help/
Countries Forbidden by Coinrule
Coinrule obstructs the way to its program from users of any country that is banned by the UK, USA, European Union, or by the United Nations Security Council Consolidated List.
Coinrule Reputation
Coinrule is not that famous as other crypto trading bots. The reason might be because of its unique approach to providing a strategy structure solution than a formal cryptocurrency trading bot.
Coinrule team is committed and that's why adding solutions like building customize strategies may help this bot fight with the industry leaders.
Is Coinrule For New Comers?
Coinrule is the easiest of crypto trading bots in the market. Most of the trading bots expect some knowledge to configure them but that's not the case with Coinrule. Every person who is doing trading manually can surely set up Coinrule bot.
Trading rules on Coinrule can easily be built by using IF and THEN commands that are very uncomplicated to understand.
As far as Advanced users are concerned Coinrule gives them the ability to construct their own rules and test them in Demo mode.
The Coinrule team can add more features like Trailing Buy, Trailing Take Profit, Trailing Stop loss, Advanced technical indicators, and mobile app to bring more advanced users to utilize their services.
All the users can make an account and test Coinrule roles before paying for the premium membership that is helpful for new users to fully grasp Coinrule functioning without any charges.
Conclusion
In this Coinrule review we have attempted to cover all details of this trading bot.
Coinrule is simplistic and easy to understand bot that still has to compete and gain more reputation in the crypto trading bots industry.
It provides nice security measures and good support for exchanges. All major crypto exchanges like Binance, Coinbase, Kraken, Okex can be connected with Coinrule.
An opening of an internal market place can be very advantageous where advanced users will be able to sell their successful trading strategies, signals, and socialize with other users like other bots marketplaces.
In addition, any characteristic of copying successful traders by new users can also be very helpful for newcomers.
Users can always give Coinrule a try as it is an interesting choice for anyone who is interested in automated crypto trading.
[maxbutton id="7″ ]
Follow Us on Twitter and Facebook.
Disclaimer: This content is informational and should not be considered financial advice. The views expressed in this article may include the author's personal opinions and do not reflect The Crypto Basic's opinion. Readers are encouraged to do thorough research before making any investment decisions. The Crypto Basic is not responsible for any financial losses.
-Advertisement-