The discussion here is about Are Trading Bots legal? Are trading bots profitable, Why to use them, and What are the best trading Bots?
Cryptocurrencies trading is a hot subject if you are new in cryptocurrencies and also for those who are in crypto for years.
It is always excellent to build your Bitcoin and other coins holdings by using the high volatility of the cryptocurrency market.
While many crypto traders have been trading manually throughout their careers, there is a new trend in the cryptocurrency trading that is Crypto Trading Bots.
Mostly only institutional traders were able to make use of automated crypto trading but now it is easily possible for common traders.
With the aid of crypto trading bots, traders can create and implement their own rules and trading strategies, based on which the trading bots then trades 24/7.
In this article, we'll explain what are trading Bots, Are trading bots legal? what are the benefits of trading bots? what are some best trading bots in the market?
What are Trading Bots?
A Trading Bot is a Software that is used to analyze trading data of assets and then executes buy and sell orders on behalf of a trader.
They act based on pre-programmed and pre-defined rules.
The decision-making of the trading bots depends on the price movements in the market.
Trading bots in the crypto market have become advanced like bots in the Stock market.
Trading Bots Features
Trading bots now come with a lot of features.
Cryptocurrency traders can customize their trading bot and instruct them to act on specific strategies and rules.
The trading bots comes with features like:
Advance technical indicators and candle patterns
Trailing Stop-Buy
Trailing Stop-Loss
Trailing Stop-Short
Back Testing
24/7  Trading
Copy signals from advance traders
Copying Top Traders
Built-in Advanced Strategies
Performance Reports
Built-in Market places where you can buy result-oriented signals and strategies
More competition in the trading bots providers has certainly promoted this sector and now bots are furnished with the latest trading techniques.
These trading bots are fairly easy to set up, as every bot comes with complete guides on setting up that bot.
Read: How to setup 3commas trading bot
Read: How to setup Cryptohopper trading bot
Read How to use Coinrule trading bot
Are Trading Bots Legal?
Trading bots are internationally accepted and used in traditional stock markets.
So why should cryptocurrencies remain behind, For the past some months the use of Trading bots in crypto trading has grown remarkably, which stands the question are trading bots legal?
In the traditional trading of stocks, forex, indices, commodities, Assets, etc, more sophisticated rules and restrictions are associated regarding trading guidelines and the use of trading bots.
As in traditional markets, traders are strictly forbidden to apply techniques like wash trading, pump, and dumps, Arbitration, Carry Arbitration, etc.
However, in the cryptocurrency market, There are not as many limitations because cryptocurrency markets are not yet fully legalized.
In crypto trading, traders can very conveniently use trading bots with there preferred exchanges.
The bots can be connected with cryptocurrency exchanges with API keys.
There are a variety of trading bots that a user can use according to his requirements and budget.
Your bot is like your driver, but you cannot let you bot drive unobstructedly, you continuously have to check the performance of your trading bot, and the strategy you are implementing to generate profits.
Using trading bots to do wash trading or pump and dump coins is not advised.
Any reputed exchange like Binance, Coinbase, or others may permantenly ban you if they found your involvement in any of trading ways that are prohibited.
Are Trading Bots Profitable?
Trading bots can make you a lot of profits particularly if the market is in the uptrend.
The Crypto market is very volatile, prices can fluctuate in minutes, so you need to customize your trading bot in a way that can protect you from losses when markets move downward sharply.
In an uptrend, the trading bots are easy to set up and you may not need to place stop losses.
But when the market goes the other way, your trading bot can not help you much if there is no stop-loss set.
Every well-known trading bot comes with predefined trading strategies along with custom trading strategies options.
New users can easily set up there trading bot on the base of built-in trading strategies and make profits.
Advanced users can guide bots on how to trade by applying their successful trading techniques for making profits.
If the cryptocurrency market is in an uptrend, trading bots will make more and more trades to produce more profits.
But the bot must be guided what to do if the market is falling, getting out of trades, stop trading when the market is very volatile or setting up stop loss are the common commands that you must configure to make your trading bots more profitable.
Are trading bots profitable? depends on your inputs to trading bots, If you are experienced traders and possess a reliable trading strategy then trading with bots can be very profitable for you.
Trading Bots are machines that require adequate commands to respond accordingly. They will do nothing else but what you will lead them to do. If these machines are not correctly guided, results may not be in your favor.
New traders must not worry as these modern trading bots arrive with many built-in trading methods, new users just need to connect their exchange with trading bots by API keys and begin doing automated crypto trading.
Trading with bots is also profitable because they do not sleep and keep on doing trading without any emotions all day and night, they enable traders not to miss any profitable trade.
The best trading bots in the market are discussed at the end of this article.
Why Use Trading Bots?
Cryptocurrency trading with trading bot comes with a lot of advantages.
The principal influence of trading bots is that they function according to a pre-defined strategy.
Bots have no sentiments in trading, They run on the predefined rules allocated to them, they don't sleep, eat or do any other thing. They just trade for you twenty-four hours a day.
Some chief benefits of trading with the bot are:
Higher Efficiency
Trading Bots can analyze the market conditions of multiple cryptocurrencies.
But human beings can only analyze one cryptocurrency at one time.
Trading bots have the ability of opening and closing multiple trades to one time if there is a potential profit margin.
On the other hand, a trader manually opens and closes positions which takes a lot of time and effort.
No Emotions
The prices of cryptocurrencies are very volatile and are usually manipulated due to a lack of regulation.
So when the price of cryptocurrencies moves upward sharply, traders jump in with the greed of missing any profits.
The same is the case when prices fall sharply trades try to get out of traders with fear to avoid losses.
But Trading Bots are different.
They have no human emotions and they are not engaged in the losses or profits results.
Market manipulation and enormous price fluctuations do not influence their functioning.
They simply trade on real-time market data and execute their commands according to the set programmed rules.
Increased Speed
People usually require plenty of time to make trades. Our decision making is often not quick and we think should I put my money on this trade or not, what should be the stop loss etc
Regrettably, such delays can be harmful in the volatile cryptocurrency market, as a good trade can drop in value if you take too long to execute.
Trading Bots, on the other hand, execute orders immediately. They can sort out multiple good trades in less than seconds and implement actions instantly without delays.
24/7 Trading
Cryptocurrency markets are open 24 hours a day and 7 days a week.
This a great opportunity for traders who don't want any breaks in trading.
But there is a problem that no one is available 24/7 for trading.
Human beings need time to eat, sleep, and do other basic obligations.
During the time you relax and are not present in front of your trading device, you can miss various profitable trades
A trading Bot solves this Problem and can trade day and night for you without getting tired or availing any breaks.
But this doesn't indicate, not to review the bot's progress from time to time.
Security
Trading with bots is very secure and reliable.
By proper settings of your API keys, trading bots have no way to withdraw funds.
Bots are linked with crypto exchanges by API keys. Disable withdrawal rights by going to the API setting in your exchange account.
By doing you Bots will only be able to trade on your behalf, they will not be authorized to withdraw any funds from your exchange accounts.
Such settings make trading with bots extremely secure.
Easy User Interface
As the competition is growing between trading bots so nowadays top trading bots are coming with exceptionally simple to manage user interface.
The trading strategies are built-in, There are drag and drop options, built-in market places, and much more.
These trading bots have their videos, tutorials, blogs, and support teams that can help users in setting up trading bots with no trouble.
What are the Best Trading Bots?
The cryptocurrency market is crowded with too many bots.
When choosing trading bots users must explore online fame of that bot.
User can search social media to find out what views people have about any bot, are they pleased by the results of trading bot or not.
Another crucial factor is to weigh on price plans of trading bots.
Every trading bot has its price plans. Some are costly and others are not.
Users must notice that price plans of any trading bot are affordable for them or not.
We have figured out three best trading bots that are leading the race and are recognized as the best trading bots because of their exceptional performance and wide range of features
3commas
3commas is one of the most successful and popular web-based Trading Bot.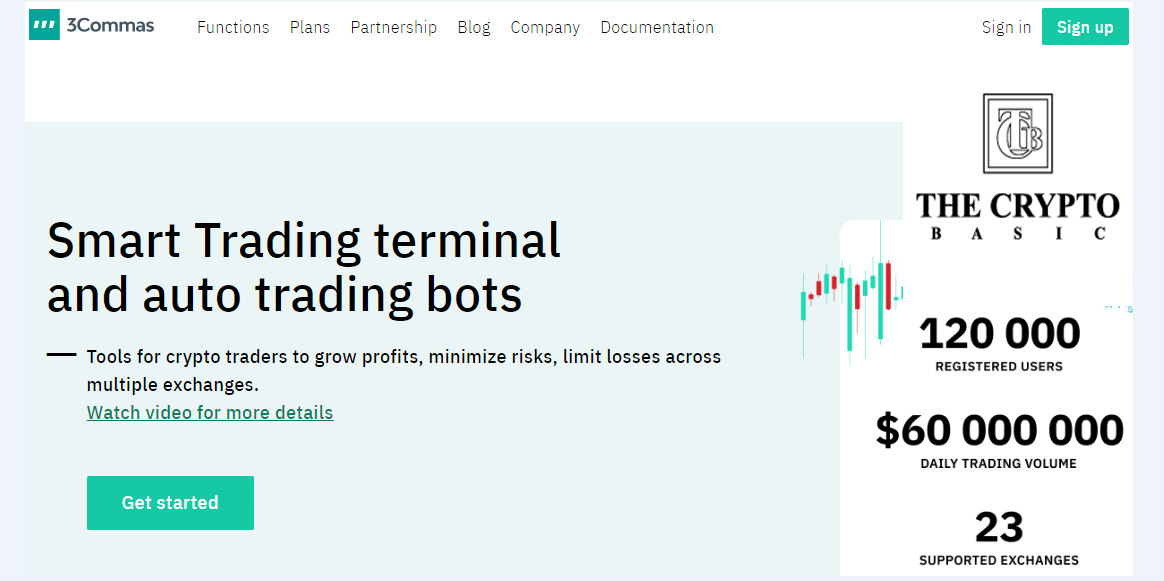 3commas has a trading volume of more than $ 75million, more than 120,000 registered users, and 23 supported exchanges.
3commas is growing day by day. Not only more users are registering daily, but the platform also offers best-connected exchanges like Binance, Coinbase, etc so that its users can place different orders on numerous top exchanges.
The user interface is very easy to understand and work with.
The functionality is very reliable and contains take profit and stop-loss functions, paper trading options, set multiple targets to buy or sell cryptocurrencies, copy top traders, and much more.
New users can practice built-in trading strategies to their 3commas trading bot while advanced users can apply their self designed successfully trading techniques.
3commas comes with a marketplace where users can buy or get free trading signals and strategies from experts.
3commas also have mobile apps to manage bot via Android and iOs smartphones. Which makes trading effortless and monitor performance from anyplace.
For complete and thorough details about 3commas please read our 3commas review.
or
[maxbutton id="3″ ]
Cryptohopper
Cryptohopper Bot is a Cloud-based crypto Trading bot that can be connected with all major cryptocurrency exchanges.

Because the Trading Bot operates in the Cloud, users do not need to download anything. Simply sign-in to your Cryptohopper account and start automated trading.
Setting up Cryptohopper is considerably uncomplicated and normally takes no more than five minutes, because Cryptohopper comes with specific videos and articles on how to setup cryptohopper.
Cryptohopper has a built-in marketplace where you can get free or paid signal plus trading strategies that make your trading lot more relaxed.
Cryptohopper has predefined advanced strategies for new users that are built with a mixture of special indicators and technical analysis.
Users can copy best traders plus Cryptohopper is equipped with mobile apps.
For comprehensive and precise details about Cryptohopper please view our Cryptohopper review.
or
[maxbutton id="4″ ]
Coinrule
Coinrule gives you the power of automated crypto trading in the easiest way.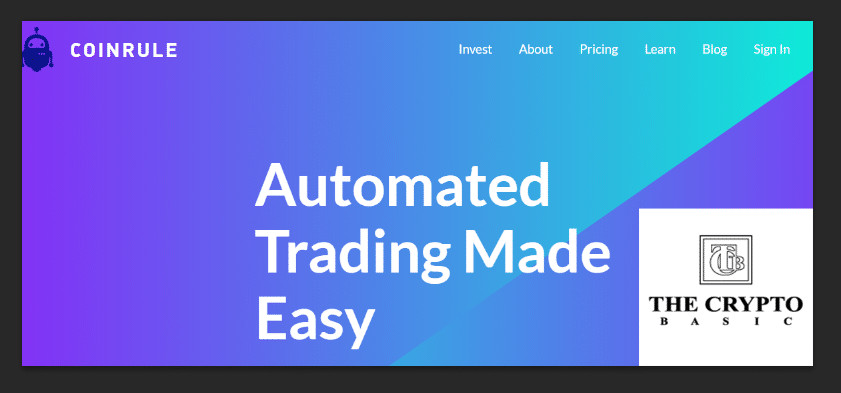 Coinrule is a trading bot that concentrates on beginners who finds it confusing to set up trading bots.
Coinrule is the perfect answer for new traders who are excited about automated crypto trading but can't set up bots.
Low price Coinrule lets users set up their trading strategy in the form of the sentence, which is extremely easy to understand and apply.
Coinrule is also good for professional traders who want to design and implement their trading methods.
Coinrule, when connected with your preferred exchange, has the most minimum latency time than any other bot.
Coinrule can also be connected with top crypto exchanges and provide users with Scalping and RSI-based strategies, that are easy to apply.
Read how to configure a trading strategy in the form of the sentence and complete guide on Coinrule in our
or
[maxbutton id="7″ ]
Conclusion
If you have some Trading expertise and want to grow your profits, Trading bots grant you fabulous means to do so.
Initially, you need to research on how to set up your trading bots to avoid any undesired results later.
However, once the Bot starts working and becomes profitable, all your hard work has more than paid off.
It is recommended that Beginners must first try to learn the basics of trading before using any automated crypto trading.
Trading bots in cryptocurrencies are becoming indispensable as their use cannot be denied, if you want peace of mind and more profits, you need to start trading with bots today.
What is your view about trading bots, Are trading bots legal? and Are trading bots profitable? please let us know in comments
Follow Us on Twitter and Facebook.
Disclaimer: This content is informational and should not be considered financial advice. The views expressed in this article may include the author's personal opinions and do not reflect The Crypto Basic's opinion. Readers are encouraged to do thorough research before making any investment decisions. The Crypto Basic is not responsible for any financial losses.
-Advertisement-