- Advertisement -

Vechian price breaks two important support levels, and $0.065 which is May 23 low may come into play as a support. Overall crypto market is bearish because of China Central Bank has Restricted Banks and Payment Providers not to Deal with Crypto-Related Businesses Including Exchanges along with China complete crackdown on BTC miners.
Read: China Crypto Crackdown Expands As China Central Bank Restrict Banks and Payment Providers to Deal with Crypto-Related Businesses Including Exchanges
Along with VET price decline, the Vechain social media volume is also steadily going down.
Read: Why Crypto Market Lost $120B In A Day And $270 Billion In 1 Week
Vechain price is down more than 25% in last 24 hours. VET rounded top has played its role in sharp decline of digital assets with no clear support until May 23 low of 0.065 USD.
Read: Our Report On Why China Is Cracking Down On Bitcoin Mining And Crypto Trading

Vechain price is down 75% from the April Highs, as the Vechain offered some warning signs before falling. BTC/USDT saw a move above 25% from 8-6-2021 to 15-6-2021 but VET price did not responded to BTC move which was early sign that VET bulls were exhausted and there is lack of accumulation and too much pressure from declining VET 50 day moving average, that made VET price to fall sharply.
As mentioned in our previous Vechain price analysis, 200 day moving average was the main support and a sign of relief for falling VET coin but that support was breached and on 21-6-2021 VET price closed well below the 200 day moving average that opened gates for further decline.
The next possible support is May 23 low of 0.065 USD, if Vechain is unable to hold that support, we can expect further decline. The other major support is at 47% decline, that is 78.8% Fibonacci retracement of the rally from the end of December 2020 at $0.039 as shown in the chart.
The best possible bullish scenario for Vechain price is the daily candle closing above 0.10 USD. A significant close above 0.10 can encourage traders to open new longs, but traders should stay on sidelines before any clear buy signal arise.
Vechain Social Media Volume:
Social media power cannot be overlooked. Social media can really drive crypto market prices higher. According to Santiment Social Volume metric, Vechain social media is facing downtrend since April price top, but the good sign is indicator may be bottoming as the 7-day average turned higher in previous days.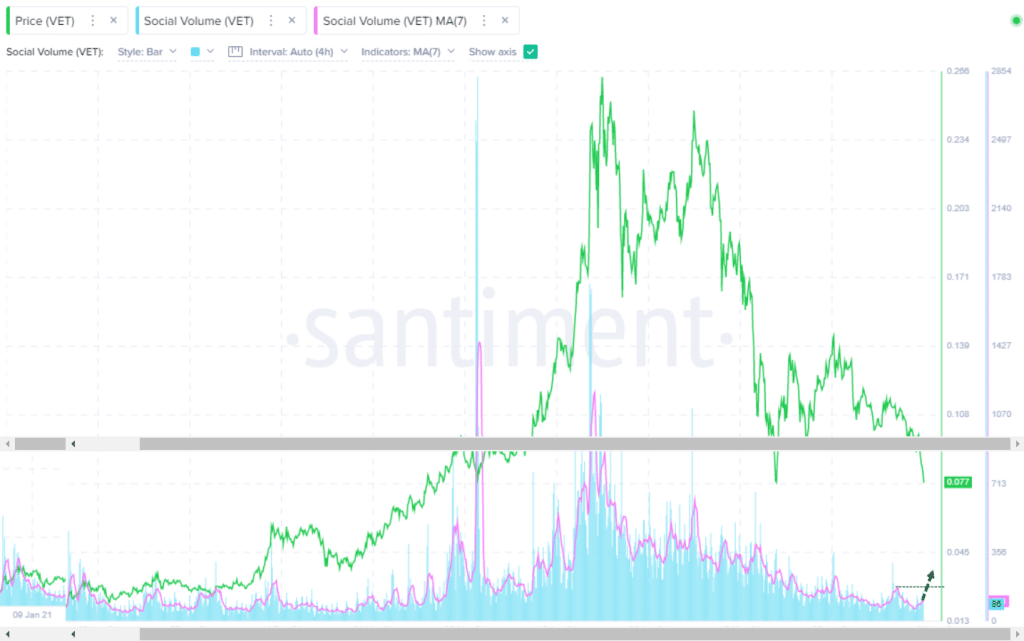 Social Volume metric move higher when prices are rising and go lower as market move down but incase of Vechain the metric is performing oppositely. Vechain new period of social media interest can be confirmed if the indicator close above recent high of 177 that could make a double bottom for the 7-day average of social media interest.


Conclusion:
Vechain price is in a vacuum with no support until $0.065. Vet price fall that made daily candle of 21-6-2021 closing below 200 day moving average can have major negative impact on Vechain price. A breach of strong support of 200 day moving average can now act as a strong resistant to any upside move. Traders should trade with caution but it is better to be on sidelines in such market conditions.
Disclaimer: The article is for informational purpose only and not a financial advice by any means. You should do your own research before investing in any financial instrument.