- Advertisement -

Vechain price is doing good as bulls are looking for an uptrend. A further increase in VET buying can take Vechain to $0.10 resistance level, which is a 25% price increase. The MRI indicator show that VET might visit below support of $0.070 before making a consistent uptrend.
Read: Sunny LU VeChain CEO: What VeChain Is Offering To Different Level Of "Developers"
Vechain price is consolidating at the range of $0.06 to $0.08. This price action suggest that there are strong chances that VET price can move forward to touch $0.10 resistance.
Read: For the First Time Ethereum Crossed Bitcoin in Address Activity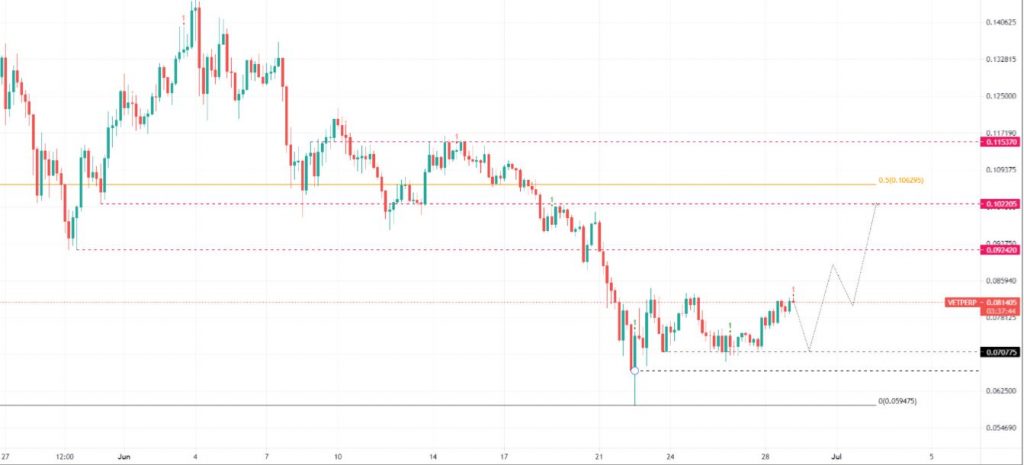 On the other hand, The Momentum Reversal Indicator (MRI) is pointing a sell signal in the form of a red 'one' candlestick on the 4-hour chart, which predicts a one-to-four candlestick correction. So traders and holders might expect VET price to visit lows of $0.070 again. The price may fall below $0.070 to collect liquidity, If such development is followed by a quick bounce than it is bullish sign.
Read: Suzhou City Launched "Changan Code" Based On Vechain Toolchain Covering More Than 300,000 Local Residents
On the upside VET will face medium resistance at $0.090 and strong resistant at $0.10.
Read: How Vechain Blockchain Can Be Useful In Dairy Products Market
On the bearish side if support of $0.07 is broken, VET might see a 11% downfall going to $0.059.


At the time of writing overall crypto market is doing good, with ETH trading above $2000 and BTC above $35000. Under such favorable condition there are high chances that VET price will continue it upward momentum till $0.10.
At $0.10, VET bulls should stand up and come in with force to break $0.10, which will prove as a strong resistance.
Read: A Comprehensive Long List Of Vechain Food Safety Use Cases
Resistance: $0.09-0.10
Support: $0.06-0.07