ADA is down 6% today as it falls to support at the 20-day Moving Average (blue line).
Cardano is consolidating within the ascending triangle pattern that started in late June. The coin fell to its lowest price in June and found support at the 200-day MA line (yellow on the chart) at $1.05 and has rebounded sharply since then, forming a bullish triangle.
Read: Cardano Foundation Long Term Plans: Onboard Ten Fortune 500 Companies,1 Billion Users, And 50 Banks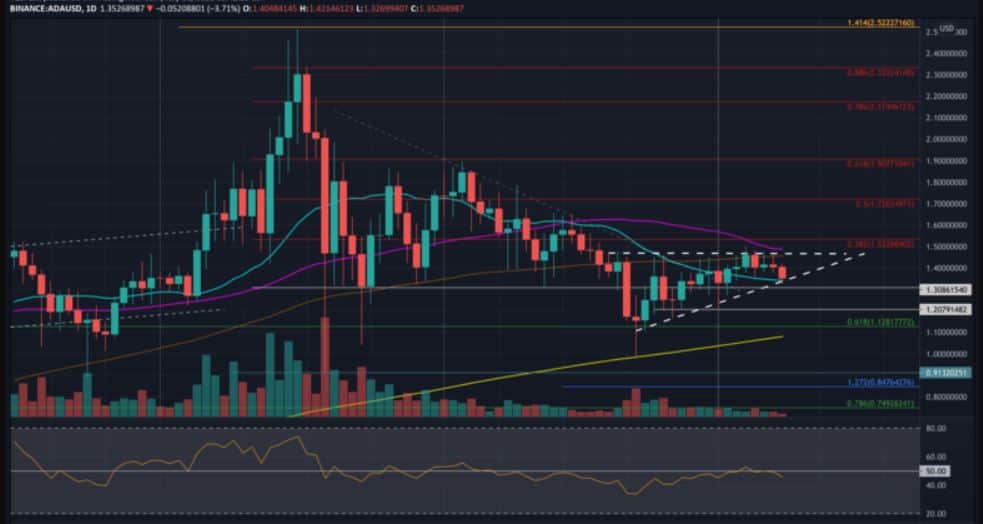 This ascending triangle is called a bullish triangle pattern if it breaks upward however, there is also a breakdown situation. At the time of writing, the bottom corner of the triangle is being tested before possible downfall.
Earlier this month, in July, ADA rallied higher and tried to break to the top of the triangle. Unfortunately, it failed to break the roof at $1.47, where 100-day moving average (Shown In Purple) is acting as a resistance.
ADA price has dropped lower since then, as it has dropped below $1.40 today to find support at the bottom corner of the triangle at $1.33, provided by the 20-day MA.
Read: Grayscale Adds Cardano To Their Product Family
A decrease in volume is usually a sign that anticipates a large price movement. If the price fails to find support at current levels, the move is likely to be downward.
Looking ahead, if ADA price break below the triangle and 20-day moving average, the first support will be at $ 1.31. If price drpped further next support is $1.21 (July lows), $ 1.13 (0.618 Fibonacci retracement) and $ 1.08 (200-day moving average -yellow line).
On the other hand if there is upward price move then the first resistance is at $1.41. This is followed by a significant range of resistance between $1.46 and $ 1.51 provided by the 100-day moving average, and the upper corner of the ascending triangle.


The RSI recently dropped below its centerline again, indicating that bearish momentum may be starting to increase.
Read: Cardano Gets On The Top Of Stakeable Assets List With More Than 70% Of Total ADA Supply Is Now In Staking
The overall crypto market is trading in RED so investors have to be cautious and apply stop loss if there is any large drop in crypto marketcap.
Key Support Levels: $1.35, $1.31, $1.21.
Key Resistance Levels: $1.41, $1.46 – 1.51, $1.73.