- Advertisement -

Bitcoin Experiences Longest Period Of Accumulation Since May.
In a tweet on Wednesday, Santiment Feed, an on-chain and social sentiment analytics firm, highlighted that Bitcoin had experienced sustained accumulation in the past week.
According to Santiment, wallet addresses with 100 to 10k BTC have added 46,173 BTC since September 27, noting a correlation between decreasing Tether USD (USDT) whale supply and increasing Bitcoin whale supply and vice verse. In addition, the analytics firm notes in the shared chart that it is the longest sustained accumulation period since May.
"Bitcoin whales are showing signs of sustained accumulation, which has been a rarity in 2022," wrote Santiment. "Since September 27, addresses holding 100 to 10k BTC have collectively added back 46,173 BTC back to their wallets as large $USDT holdings have dropped."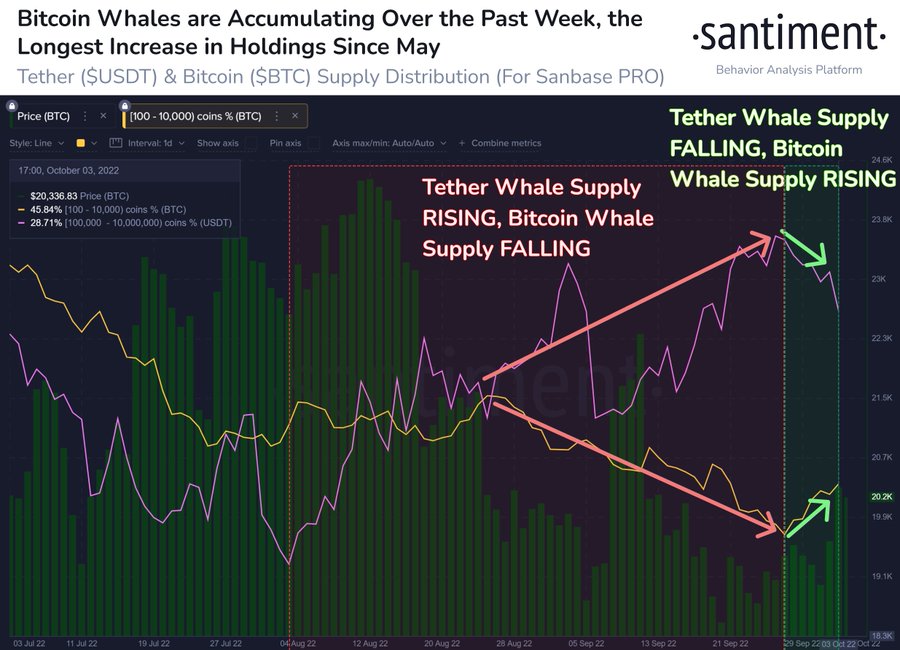 It bears mentioning that increased accumulation by whales is often regarded as a positive signal in the markets. This is because it usually indicates that investors are bullish on an asset and tend to preempt sharp bullish price moves.
As highlighted by a Santiment report yesterday, the intense selling pressure faced by the leading digital asset appears to be waning. Notably, less than 9% of the BTC supply is held by exchanges for the first time since 2018, indicating fewer sellers in the market.
Still, traders need to exercise caution in the markets. Whale Alert tweets today reveal that about 15k BTC has made its way to Huobi Global exchange in three rapid transactions of about 5k BTC each, a possible sign that sellers are not completely exhausted.
While investors are getting used to the idea that the $19k to $20k price range is solid price support for the leading digital asset, seasoned analysts continue to predict more pain. For example, Glass node, at the end of September, predicted that the asset's price could fall as low as $12k, joining the likes of Justin Bennett and Peter Brandt, who have also highlighted the possibility of such a steep price drop.
Bitcoin is trading at the $20,129.61 price point, up 2.69% in the last 24 hours and 7.23% in the past week. Moreover, it is not all doom and gloom for the asset, as JP Morgan still sees it as the most profitable risk asset.