A fresh report from CoinGecko shows that Ivory Coast and South Africa are among the top African countries leading the global adoption of Shiba Inu (SHIB).
Shiba Inu (SHIB), one of the top truly decentralized projects making waves in the crypto industry, continues to gain significant attention from crypto enthusiasts and investors in different countries.
A recent data survey from the leading crypto-tracking platform CoinGecko shows that South Africa and Ivory Coast are two African countries particularly interested in Shiba Inu despite Nigeria taking the lead in general crypto interest.
1/ Which crypto are African countries watching in 2023?

Our study shows that meme coins, DeFi tokens and blockchain networks are the most popular narratives in Africa so far this year.

Let's dive into the findings in this thread 🧵

Read the full study: https://t.co/ZK343fe6Ec pic.twitter.com/j3brsC5y9X

— CoinGecko (@coingecko) July 10, 2023
Interest in Shiba Inu
Among the crypto assets embraced greatly by many Africans are Bitcoin (BTC), Shiba Inu (SHIB), XRP, Baby DogeCoin (BABYDOGE), Pepecoin (PEPE), and Terra Classic (LUNC).
However, SHIB boasts a greater interest in countries such as Ivory Coast and South Africa as the asset constituted the top 3 cryptocurrencies by web views per the study. Notably, the recent CoinGecko research investigated crypto interest by country in Africa, based on data for web page views from January 1 – July 4, 2023.
While Shiba Inu was South Africa'sAfrica's second most popular crypto, the asset was the third most famous in Ivory Coast, per the report. The report published on July 7 further disclosed that Ivorians were also interested in BABYDOGE and LUNC.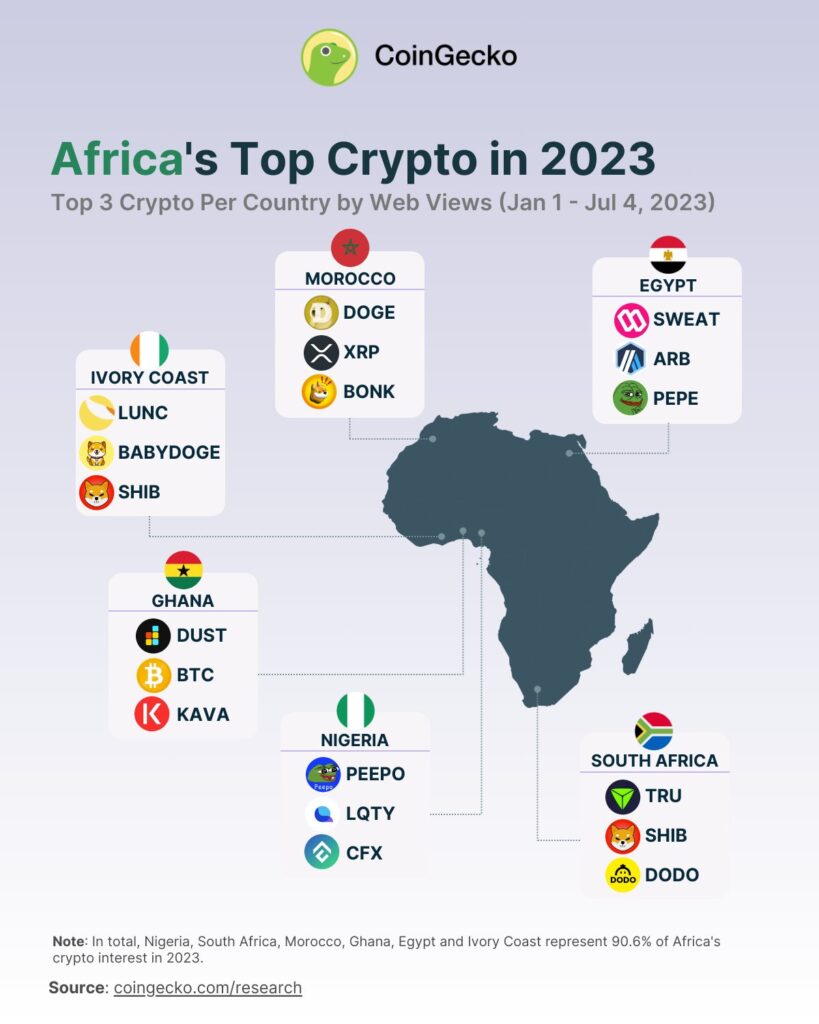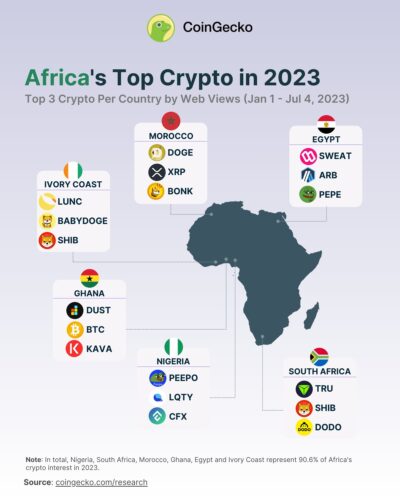 Besides South Africa and Ivory Coast, countries in other continents have also shown a particular interest in Shiba Inu.
India is also highly interested in Shiba Inu per The Crypto Basic's recent report, which revealed that SHIB was among the top 3 traded assets in June on India'sIndia's famous crypto exchange, WazirX. The recent CoinGecko report details another surge in interest among Africans.
Crypto Adoption in Africa
While the United States seems harsh on crypto, as evident in the recent SEC crackdowns on several projects, interest in crypto from Africans is rising. Per the survey, which examined the state of crypto in 15 African countries, Nigeria topped the chart as the country with the most crypto interest, with a percentage of 66.8.
Other top-ranked countries which contribute considerably to the growing adoption of crypto in Africa include South Africa (8.36%), Morocco (5.43%), Ghana (5.24%), Egypt (2.74%), and Ivory Coast (2.07%). However, these five nations only account for roughly 23.8% of the continent'scontinent's overall interest in crypto year-to-date.
Regionally, interest in cryptocurrencies is higher in West Africa as the territory accounts for 74.7% of the continent'scontinent's overall crypto interest. Meanwhile, Northern Africa, Southern Africa, East Africa, and Central Africa account for 10%, 9.6%, 3.8%, and 1.9% of total crypto interest in Africa.
With South Africa and Ivory Coast making the top six list of African countries interested in crypto, the growing adoption rate of Shiba Inu in these nations represents an impressive amount of attention garnered by the asset in the continent.
ShibArmy Anticipates More Developments
The recent increased interest in SHIB could be attributed to many factors, including the team'steam's plans to onboard more developments into the Shiba Inu ecosystem. Moreover, some enthusiasts might be investing more in SHIB lately with hopes of amassing millions of dollars, as in the case of several reported traders. 
The most-anticipated project in the ecosystem is Shibarium, a layer-2 scaling solution. At the time of writing, the project is in its testing version, dubbed Puppynet, with user engagements hitting new milestones consistently. Community members believe the Shibarium launch will cause a paradigm shift for Shiba Inu.
SHIB Marketing Specialist affirmed this, revealing that hundreds of projects would join the ecosystem upon the Shibarium mainnet launch expected in August. Several projects, including Bad Idea AI and DogPad Finance, have already sealed strategic partnerships with the Shibarium.
Follow Us on Twitter and Facebook.
Disclaimer: This content is informational and should not be considered financial advice. The views expressed in this article may include the author's personal opinions and do not reflect The Crypto Basic's opinion. Readers are encouraged to do thorough research before making any investment decisions. The Crypto Basic is not responsible for any financial losses.
-Advertisement-