Shibarium Mainnet Launch Expected Soon, As Puppynet Activity Wanes.
The speculations surrounding Shibarium Mainnet's release intensified following an abrupt halt in Puppynet activity on August 5.
Puppyscan, the blockchain explorer of Shibarium Beta Testnet, has just unveiled a peculiar activity in the network, generating a wave of curiosity among the Shiba Inu Community.
The latest data from Puppyscan reveals that Puppynet has undergone a complete transaction freeze over the past 72 hours, indicating an abrupt standstill in the network's operations since August 5th.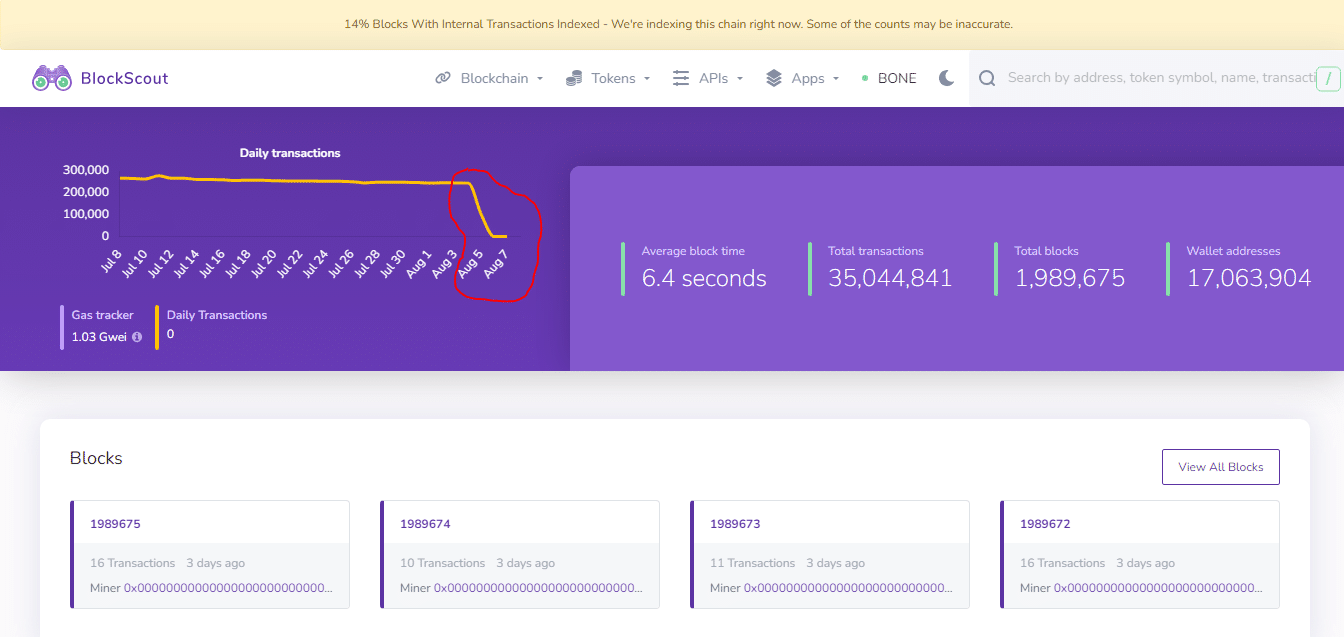 As of the latest available statistics, Puppynet's transaction count had reached 35,044,841 (35.04 million), with an average block time below seven seconds. The network had processed a total of 1,989,675 (1.98 million) blocks and hosted a substantial 17,063,903 (17.06 million) wallets.
The development fueled speculations among the Shiba Inu enthusiasts that the beta phase of Shibarium, dubbed Puppynet, has concluded in preparation for the launch of Shibarium Mainnet at the upcoming Blockchain Futurist Conference 2023, slated for August 15th and 16th. However, the team has yet to confirm the move officially.
Has the blockchain stopped testing since two days ago to prepare for its launch on August 16th?#Shibarium pic.twitter.com/ppBPL0Gx3Q

— Shiba Arab army™ (@Labib_co) August 7, 2023
In parallel, the Shiba Inu development team is working hard, making essential preparations for the impending Shibarium Mainnet launch. As reported earlier by The Crypto Basic, Shytoshi Kusama, the lead developer of SHIB, has confirmed that the SHIB team will soon relinquish ownership and control of the BONE contract shortly after minting the remaining supply of BONE.
In addition, the Shiba Inu team has introduced several initiatives to improve the Shiba Inu Ecosystem ahead of the long-awaited Shibarium – Layer 2 Solution. These initiatives include the Shibarium SSI (Self-Sovereign Identity) and the launch of the Shibarium beta bridge for public testing.
Follow Us on Twitter and Facebook.
Disclaimer: This content is informational and should not be considered financial advice. The views expressed in this article may include the author's personal opinions and do not reflect The Crypto Basic's opinion. Readers are encouraged to do thorough research before making any investment decisions. The Crypto Basic is not responsible for any financial losses.
-Advertisement-