Our Gunbot review is a comprehensive guide on Gunbot, a bot specially design to perform trading on BTC pairs.
Cryptocurrencies are growing day by day. The theory of crypto is based on blockchain.
Blockchain useability in substantial economic and industry sectors is now accepted and admired.
Blockchain technology and innovative products built on it are becoming part of our daily life.
Which is the cause that solid blockchain projects that provide excellence to blockchain are growing and attracting investors.
As cryptocurrencies are tradeable, the growth of blockchain has also pulled traders to trade in them just like stocks.
This shift of investors from traditional stock trading to cryptocurrency trading means a lot for cryptocurrencies.

Any innovative concept demands investments for growth, the same is the case for crypto.
As tradeable assets, Crypto wants volume to grow its prices and volatility to attract more traders to trade-in them.
The cryptocurrency market is still comparatively fresh and is evolving every day.
Some analysts propose that the prices of cryptocurrencies will grow significantly in the long term.
Read Also: Phemex Exchange with Zero Spot Trading Fee
Crypto may take five to ten years to authenticate herself as every emerging industry need time to build its basis and acquire the trust of the majority.
With increasing fame, there is a large likelihood that cryptocurrency will fit as a primary tool of exchange shortly.
Especially in foreign transactions where there are a lot of currencies and means of transferring are not only challenging but also require a lot of time.
Crypto is very volatile, this has also been a reason for recognition for them.
Traders in traditional markets have never seen such up and down movements of prices.
They sit day long to see some price fluctuations and gain profits.
But cryptocurrencies are completely different, prices change dramatically in hours or even in minutes.
Such price changes attracted many bored traders of stock markets that were tired of price stillness in traditional markets.
Read Also: What is Ethereum-How Does it Work
The other principal benefit for traders is that cryptocurrencies are never stopped for trading.
Traditional markets open and close according to their set time, but not crypto, traders are encouraged to do trading 24/7 in cryptocurrencies.
There are now more than five thousand cryptocurrencies, Some investors hold them looking for long term profits while another trade daily to get profits.
The popularity of cryptocurrencies has given birth to automated crypto trading.
Trading stocks with bots is a common practice.
Read Also: Can you Buy Bitcoin At Walmart?
But in cryptocurrencies, this concept is now becoming popular.
A market that is open 24/7 no one can trade that frequently and regularly.
So to gain the maximum advantage of cryptocurrencies trading with bots is becoming extremely popular.
Our Gunbot review incorporates all the knowledge you want about Gunbot before you go for it.
Have a Look On: Best Cryptocurrency To Invest In 2020
Gunbot Overview
Gunbot is an automated crypto trading platform that allows users to do automated crypto trading.
As the crypto market does not sleep and traders being humans can not do constant trading, trading bots like Gunbot come into play to do trading on behalf of crypto traders.
Trading bots are perfect for market uptrends, they come with predefined trading strategies so that new users don't have to compose complex strategies.
More advanced traders, however, can design and implement their trading strategies.
Gunbot comes with both. Amateur traders can implement built-in trading techniques while Professional traders can sketch their own.
Gun bot was founded by Gunter De Niro and was released in December 2016.
Gunbot is one of the best crypto trading bots. It supports nineteen top cryptocurrency exchanges.
Gunbot can execute trading strategies such as MACD, MACDH, Pingpong, SMA cross, Time series analysis, Trailing, Ichimoku, trailing stop limit and many others
Gunbot is connected with exchanges by API keys. Every major crypto exchange provides API key functionality.
With the aid of the API key, you can effortlessly connect your trading bots with your preferred exchange.
Gunbot is not cloud-based means that you need to download your Gunbot, install it on your PC, and run it to begin trading.
Gunbot is a bitcoin trading bot. It can only trade on BTC pairs. it analyzes highs and lows of BTC pairs and judges whether to buy or sell.
If you want to grow your BTC, Gunbot can be the best choice for you and this bot only love BTC pairs to trade on.
Read Also: Coinrule Review-A Crypto Trading Bot Perfect For New Traders
Gunbot Review-Pricing
Gunbot comes with four basic pricing plans. There is no free or trial plan available.
Gunbot Starter
It is the first and least expensive pricing plan, Its start with 0.02 BTC. This plan gives you one exchange, three trading strategies, telegram integration, and unlimited pairs to trade on.
Gunbot Standard
This plan starting price is 0.05BTC and allows you one exchange, all trading strategies, unlimited pairs, Additional trailing, Reversal trading, Dollar-cost averaging, and Margin Trading.
Gunbot Pro
Gunbot pro starting price is 0.075 BTC, This plan feature are three exchanges, all trading strategies, unlimited pairs, Additional trailing, Reversal trading, Dollar-cost averaging, Margin Trading, Backtesting add-on.
Gunbot Ultimate
This is the last and most expensive plan, it comes with all the features that Gunbot has to offer.
Further details of pricing plans are shown in the image below.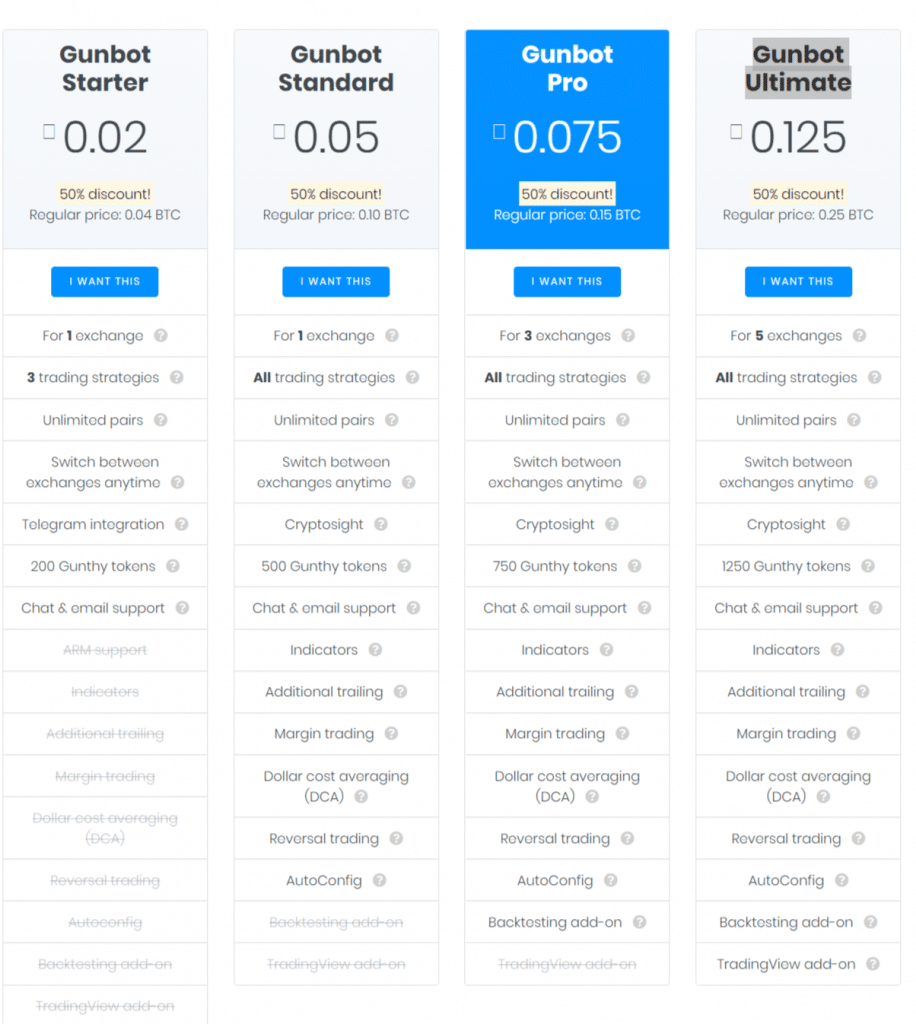 Gunbot Addon
Gunbot comes with two add-ons.
Backtesting add-on
Backtesting addon has a price of 0.0125 BTC and lets you backtest Gunbot trading strategies on all Tradingview supported exchanges.
TradingView add-on
Trading view add-on price is 0.0499 BTC, it enables you to do margin trading on Bitmex, Huobi, Bitfinex Kraken, Poloniex, and trade using email alerts from TradingView.
Read: Are Trading Bots Legal? Why Use Trading Bots? Are They Profitable?
Gunbot Features In Our Gunbot Review
Let have a look at the most significant features of Gunbot in our Gunbot review.
Gunbot is improving as a strong bitcoin trading bot, to contend with other strong competitors, Gunbot has annexed some result-oriented features.
Most prominent of them are:
Gunbot Supported Exchanges
Gunbot supports all the major crypto exchanges and new exchanges are added routinely.
Gunbot supports more than a hundred spot trading exchanges from the ccxt library.
Gunbot has the expertise to trade on several exchanges at the same time.
Exchanges supported by Gunbot are:
Binance
Binance US
Bittrex
Huobi Global
Kraken
Kraken Futures
KuCoin
Bitfinex
Bithumb
Bitmex
Bitmex Testnet
Bitstamp
SEH
Coinex
Coinbase Pro
HitBtc
Okcoin
Okex
Poloniex
Images below show Gunbot spot and margin trading support for exchanges.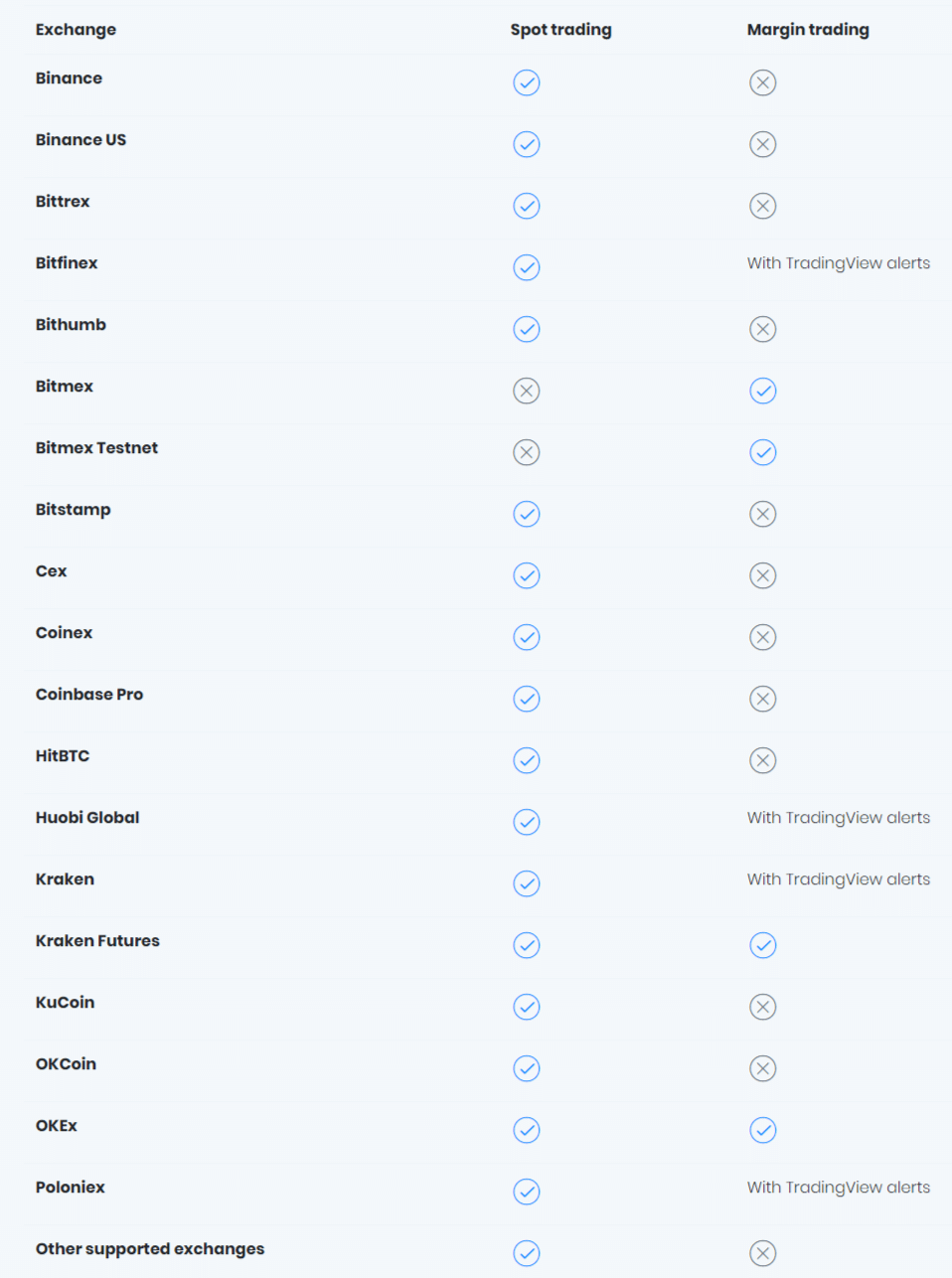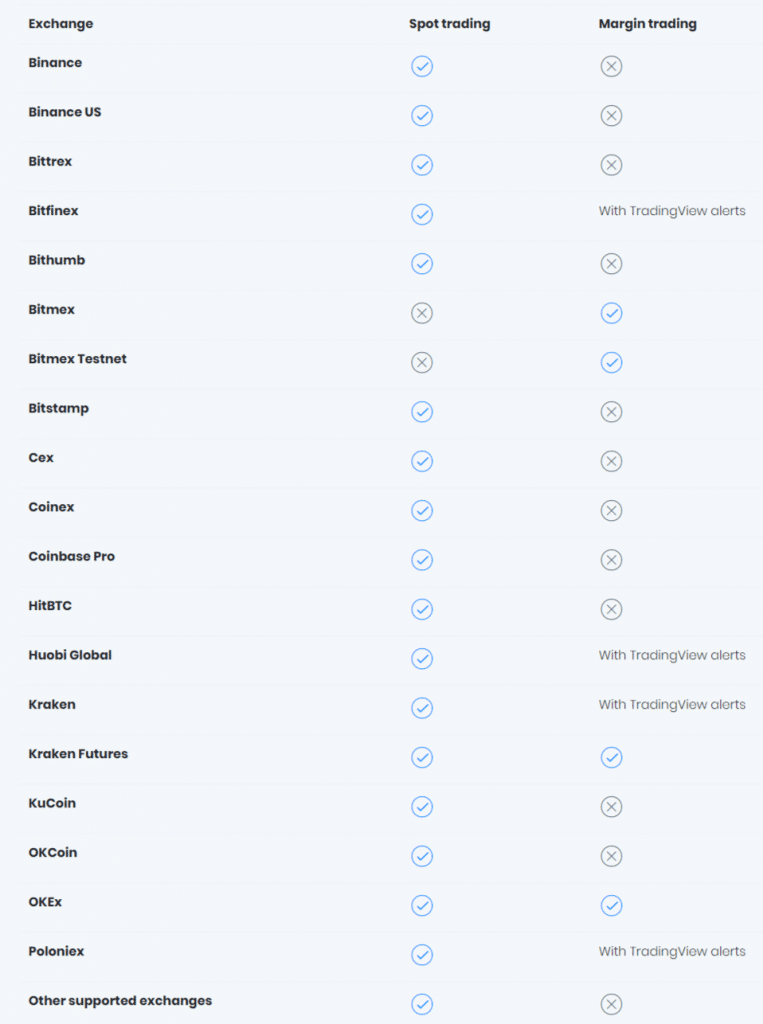 Gunbot Supported Platforms
Gunbot supports macOS, Linux, Windows, and ARM computer platforms.
The software license is not linked to a specific device.
Software updates are free of charge.
Recommended Requirements are:
2 GB OF RAM
64-bit processor
10 GB of free disk space
Unlimited Number of Trading Pairs
There are no restrictions on the number of active trading pairs in the Gunbot installation, this applies to all versions of Gunbot.
Traders can trade on one trading pair or every pair given by exchanges with Gunbot.
Read: 3Commas Crypto Trading Bot Review
Gunbot Proven Trading Strategies
A strategy is a set of practices that determine how a bot should trade.
With Gunbot crypto traders can assign each trading a separate strategy.
The central elements of the strategy are buying and selling techniques, which determine when the bot is permitted to place orders.
Gunbot begins with particularly modified strategies for margin trading.
Gunbot also comes with a lot of free strategies that are available to apply after making the smallest changes.
Each strategy can employ several protection actions, such as setting take profits and stop limits, restricting sell orders before stop trading, and limiting buy orders above the latest sell level to guard against purchases in growing markets.
Powerful Browser Interface
Gunbot comes with a built-in browser interface.
You can securely enter the interface on your local computer or access it from the Internet.
The interface supports two-factor authentication and mobile devices.
Applying the interface, you can effortlessly handle your trading strategies and associate them with trading pairs.
The dashboard displays all transactions and balances on your screen.
You can inspect accurate charts based on the data that Gunbot obtains from the exchange.
This trades visualization makes it comfortable to compose your trading strategies.
In the Gunbot interface, you can put an order manually, if you don't have enough patience to wait for the bot to place an order for you.
Gunbot Buy and Sell Methods
Gunbot offers 15 diverse ways to complete orders.
All methods can be smoothly mixed in a custom strategy
Methods are the principal trigger for an order. Each method can practice a custom stop limit to overcome risk exposure.
You can also work with a comprehensive range of candlestick patterns.
Gunbot Methods
MACD Trading Method
MACDH Trading Method
Pingpong Buy and sell at precisely set prices.
Stephen Method
SMA cross Trading Technique
Time Series Analysis
Trailing Stop/Stop Limit Technique
Spread EMA Trading
Without Emotions Method
Gain Method
Ichimoku
The Average Directional Index
Average true range trailing Stop Method
Bollinger bands.
Bollinger bands-crossover
Gunbot Additional Trailing
Additional trailing can be practiced for all types of orders to obtain the best entry or exit positions.
Traders can also apply sell trailing for assets that they bought manually.
Order types that allow additional trailing are:
DCA purchase orders
Reversal trading purchase orders
Reversal trading sell orders
Margin trading closing orders
Regular purchase orders
Regular sell orders
Trading Indicators
To improve trading, Users can set up supporting trading indicators that limit your trading method to trade only when a specific indicator is triggered.
For example: allow sell orders only when the RSI is 75 or above.
The time settings for all indicators are entirely customizable.
Available supporting indicators are:
Ema spread
StochRSI
Adx
Ema
Mfi
Rsi
Stochastic
Reverse trading
Reverse trading is the process to accumulate the quote currency when the price drops, without spending more than the first purchase order.
This can support overcome the break-even point of investment.
Gunbot can accomplish reverse trading efficiently.
Also Read: Cryptohopper Trading Bot Review
Dollar-Cost Averaging
Dollar averaging or DCA is a method for "automatically averaging down assets"
This provides you to obtain a cheaper average unit price if prices go down, finishing at a more inferior likely profitable exit price.
The role of DCA in Gunbot is easily customizable.
You can establish the following parameters:
The amount concerning the number of quota units already available that will be purchased with each DCA order.
The quantity of DCA orders placed.
Trigger for DCA orders
The minimum difference in price between the purchase orders in the DCA.
Advance Telegram Bot
Traders can Communicate with their trading bot via Telegram
With telegram bot traders can:
Track profits
Monitoring trades
Receive notifications
Change settings of Bot
Gunbot AutoConfiguration
Users can manage Gunbot with AutoConfiguration, no need to manually configure it, simply guide your bot with pre-defined configurations and it will apply additional settings accordingly.
Gunbot Backtesting
The backtesting testing allows you to test all the strategies available in Gunbot.
It is a compelling tool that empowers users to analyze built-in or manually created trading strategies before going for live trading.
Gunbot testing takes place on Tradingview, which gives an important tool for testing, supports most exchanges, and stores historical data for nearly every pair of coins on exchanges.
TradingView Extension
This extension enables Gunbot to execute trading signals sent from Tradingview.
This empowers traders to work with fully customized strategies utilizing the Pine script on TradingView.
Disadvantages Of Gunbot
In this Gunbot review, we have covered some Gunbot disadvantages as nothing is perfect.
No Free Account
Gunbot does not allow to create a free account or check Gubot with the free trial of a few days.
You have to pay straightaway for using Gunbot.
Even backtesting and Tradingview addon are not free.
Only BTC Pairs
Gunbot can only trade on BTC pairs, If you want to trade on ETH, USDT, etc pairs, Gunbot is not for you.
No Web Interface
Modern crypto trading bots are web-based, You just log in to your bot account and start doing automated crypto trading.
But in case of Gunbot, you require to download, Install, and run it on your PC.
Which might be very complicated for new traders.
Low profits
Most people argue that Gunbot gives low profits but that also depends on your trading strategy, Sound trading techniques can deliver you a lot of profits.
No Affiliate Program
Gunbot offers no affiliate program to promote their bot, Such a program can bring more extra customers but Gunbot does not seem to be inspired by it.
Read: Top 17 Best Crypto Trading Bot
Is It Possible To Earn Money With Gunbot?
Money can be made with Gunbot or more precisely BTC, More BTC means more money.
That's why Gunbot is still present in the market and competing with other bots.
But the dilemma with Gunbot is that it's not suitable for beginners.
To work with Gunbot you require to fully grasp bot settings, You need to download and install it, You should be familiar with trading strategies and how to combine those strategies with your Gunbot.
Read also: What is cryptocurrency staking
Gunbot has an enthusiastic community, advance Gunbot users are always willing to support newcomers in setting up Gunbot.
They also guide new users in building and applying strategies.
Gunbot is renowned in making logical decisions, The bot is programmed to only buy in dips and sell high. Gunbot has earned its name in generating profits.
Professional Traders that are smart to set up Gunbot successfully with high-level trading styles are delighted with bot outcomes.
Read: What is Bitcoin and How Does it Work
Gunbot Support
Gunbot provides professional support to its customers.
Support include
Telegram Support
You get uninterrupted access to any of Gunbot staff and expert users.
Gunbot staffed support community on Telegram is there whenever you want guidance.
Email support
Email support is always there for users, email support is fast and responsive, takes two to three hours to answer.
Gunbot Documentation
Gunbot is documented on the public wiki that is constantly kept up to date.
Users can get extremely accurate information about every likely Bot setting.
Gunbot Forum
On Gunbot forum users willingly assist each other.
An increasing number of user-built Gunbot extensions are accessible there.
Gunbot User group
Gunbot has a very powerful user group, with tons of expert users ready to address problems of new users.
Read in Detail: Dogecoin Mining-How To Do it Properly-Is it Profitable?
Conclusion
Automated crypto trading becoming a common practice in cryptocurrencies.
The reasons being that trading twenty hours a day is only the job of Bots and not Human.
Plus why to take the headache of trading when you can easily automate it.
Automated crypto trading may be expensive but it eliminates human emotional factors from trading, saves a lot of time, excludes human errors.
Gunbot is not a Scam, it is a nice bitcoin trading bot, Gunbot is exceptionally good in reading markets and buying low and selling high to make profits.
The drawback of Gunbot is that it is not proper for beginners.
Gunbot depends on the price of Bitcoin, which shifts very frequently.
This puts the question of whether it deserves buying or not?
For traders looking for short-term profits, this is a good option, But for long term profits, it may not work.
In conclusion, Gunbot can simplify your trading operations and works best if given proper trading guides.
To work with bots, you need some trading experience and the basics of setting up bots.
What are your ideas about Gunbot and our Gunbot review, Please let us know in comments.
Follow Us on Twitter and Facebook.
Disclaimer: This content is informational and should not be considered financial advice. The views expressed in this article may include the author's personal opinions and do not reflect The Crypto Basic's opinion. Readers are encouraged to do thorough research before making any investment decisions. The Crypto Basic is not responsible for any financial losses.
-Advertisement-