Nasdaq has released the figures for the reference stock price of Coinbase, the largest cryptocurrency exchange in the United States, which is scheduled to be listed on April 14.
According to the official publication of Nasdaq, the reference stock price is set at $250 per Share.
Nasdaq has given Coinbase's stock, COIN, a reference price of $250. The stock will officially be listed today, April 14.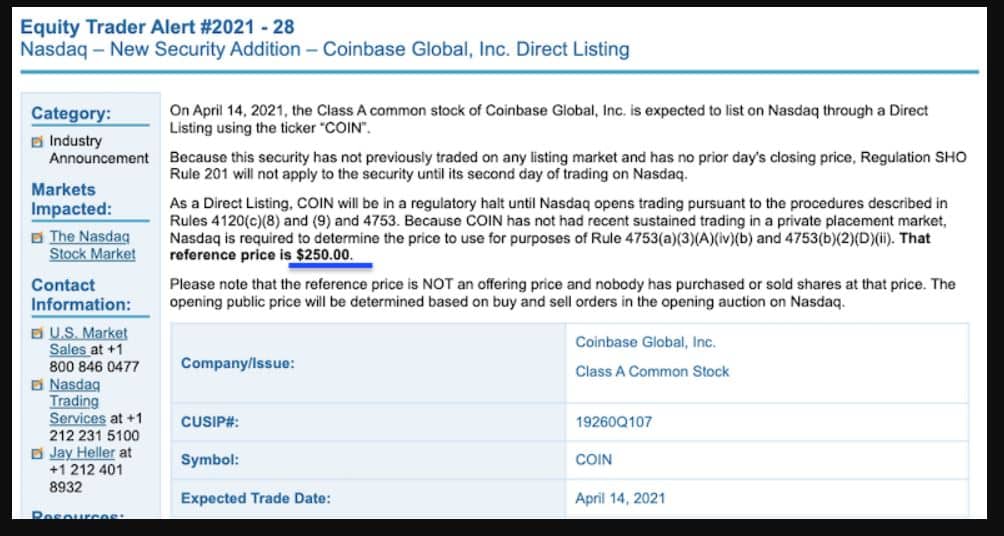 Nasdaq has given Coinbase a reference stock price of $250, according to new information on the San Francisco-based exchange's listing. Nasdaq listed the stock on April 14, after weeks of high anticipation.
The reference price was given as a result of regulation, which determines price when there has not been sustained trading in a private market. The exchange has been given a valuation of $90 billion, based on prior private sales.
Before Coinbase went public, it traded on the Nasdaq private market for about $343.5. There is a clear difference compared to the reference stock price of $250. Cryptocurrency derivatives exchange FTX traded Coinbase shares for over $ 600.
Expert Opinion
Since Coinbase listing is the first case of any crypto exchange listing on Nasdaq, it is attracting attention not only in the cryptocurrency industry but also in Wall Street finance.
Mike McGlone, senior commodity strategist at Bloomberg, believes that Coinbase listings could have as much impact on the market as Tesla's Bitcoin buying news as a tailwind for Bitcoin (BTC) to rise to $70,000.
#Coinbase IPO May Boost #Bitcoin to $70,000, Like #Tesla to $60,000 –
The lowest 30-day volatility since October indicates Bitcoin is ripe to exit its cage and bull-market continuation is favored for the next $10,000 move. Similar to Tesla's equity-wealth allocation to Bitcoin.. pic.twitter.com/DGZlJAZwWu

— Mike McGlone (@mikemcglone11) April 13, 2021
CNBC financial show host Jim Cramer anticipates the future of Coinbase, saying:
"You got to buy $COIN when that deal comes," says @JimCramer. "This is a $2T market maybe going to $3T."#btc #bitcoin pic.twitter.com/ItLMx1tbIl

— Squawk Box (@SquawkCNBC) April 12, 2021
John Street Capital analyzes the financial report released by Coinbase. It points out that it is a company that is larger than the user base of Cash App and Venmo and is already making a big profit.
0/ The @coinbase team announced 1Q21 data including revenue of ~$1.8B, adj EBITDA of $1.1B, NI of $730-$800M, trading volume of $335B & assets on the platform of $223B (11.3% of cryptoasset market) with 56M users

Run-rate of $7.2B in revenue / $4.4B in EBITDA / $3.0B of NI. pic.twitter.com/1tGpNsIBFv

— John Street Capital (@JohnStCapital) April 6, 2021
Prior to listing on the Nasdaq, Coinbase granted more than 1,700 employees 100 shares per person.