Read our complete guide on how to set a stop loss on Binance and how to use OCO order in Binance.
Cryptocurrency trading is becoming very prevalent these days, Because of the volatile nature of crypto more traders are hooked to it.
Read also: What is Bitcoin and How Does it Work
What else traders want if they can make profits in some hours or in a day.
While in traditional trading of stocks, traders have to wait for days for 1 to 3 percent price changes.
Such quickness of cryptocurrencies is making trading more fun game for traders who love immediate profits.
Read Also: How to Buy Bitcoin Cryptocurrency
While as like any traditional trading markets, crypto is not a place to become rich instantly.
It is not like that you will invest one day and become a millionaire on the other day.
Like stock, forex, commodities trading, crypto trading also demand a lot of trading knowledge and fast response as this market is not for lazy ones.
In crypto without trading knowledge and controlling emotions, you are screwed very fast, this market doesn't give you sufficient time to get back up and settle yourself.
Cryptocurrencies are not a place to grow rich quickly, rather this financial market is like others and should be given decent respect if you want some earnings for crypto trading.
Crypto market is not for light-hearted, many people that can't check their emotions in trading normally sit on the fence like chicken and see what's happening and can not trade.
Read: Top 17 Best Crypto Trading Bot
Cryptocurrency exchanges like Binance are developing themselves every day.
They are not just spot trading exchanges, Binance now offers future and margin trading, stop loss, a market buy-sell, and OCO orders to facilitate their users in the best way they can.
Also Read: Cryptohopper Trading Bot Review
When so much is offered by exchanges and the crypto market is so expeditious traders need to set a stop loss on Binance, while trading.
Trading and gambling are closely related if you are not monitoring price movements, you are not involved in technical analysis, not setting up stop-loss orders, you are utterly gambling with your hard-earned money.
Read also: What is cryptocurrency staking
So please stop gambling with your money and set up a stop loss on every trade you enter.
Before entering any trade you must ensure what will be your stop loss and take profit points, always stick to your rules to become a successful trader.
Read Also: Best 12 Profitable Staking coins List and Exchanges
If you not setting up a stop loss on Binance spot trading and price of a coin fall from your entry point, you may sit for months waiting for your coin price to come back to your entry price.
And if you sell your coins you will face definite losses.
If you are not habitual in setting up a stop loss on Binance margin and futures trading, then there is not much to say.
How To Trade Cryptocurrency-Best Cryptocurrency Trading Strategies
Your account will be liquidated in a matter of minutes.
So to become a successful trader you must use stop-loss orders.
Let's go into detail on how to set a stop loss on Binance.
Read Gunbot Review-A Bot Especially Designed To Trade BTC Pairs
What is Stop Loss?
In simple words, a stop loss or stop-limit order is the most crucial order that can protect you from heavy losses when the no mercy crypto market falls excessively.
Read Also: What is Ethereum-How Does it Work
Crypto traders who are familiar with the Binance exchange know that there are many types of orders on Binance.
The most important of them is the stop loss or stop-limit order.
It is the only type of order that always guarantees that its users are protected from heavy downward price movements.
Read: Are Trading Bots Legal? Why Use Trading Bots? Are They Profitable?
The stop-limit order is the combination of stop price and the limit price.
The stop price is the price that will generate your limit order.
And limit price will be the actual price where your coins will be sold.
This shows that as soon as you stop price is reached, the limit order will be placed automatically.
Read Also: What Is Cryptocurrency Mining?
The stop price and the limit price can be the same, but that is not advisable.
Because when the market falls sharply and your stop and limit prices are the same, the fast-falling market when reaches your stop price and your limit order pop up suddenly on the order book, it sometime may not fill as the prices are going down very fastly.
Read Also: Coinrule Review-A Crypto Trading Bot Perfect For New Traders
So it is always recommended that your stop price should be more than your limit price.
This ensures that your stop loss order gets filled.
Let's demonstrate how to set a stop loss on Binance spot trading in an example.
How To Set A Stop Loss On Binance
Setting up a stop loss on Binance is very artless and easy. It is not technical or difficult to exercise.
In our example, we have bought 315.341 KNC coins with 500 USDT on Binance for 1.540 on a 4-hour chart.
We will now set up a stop loss on our KNC spot trade.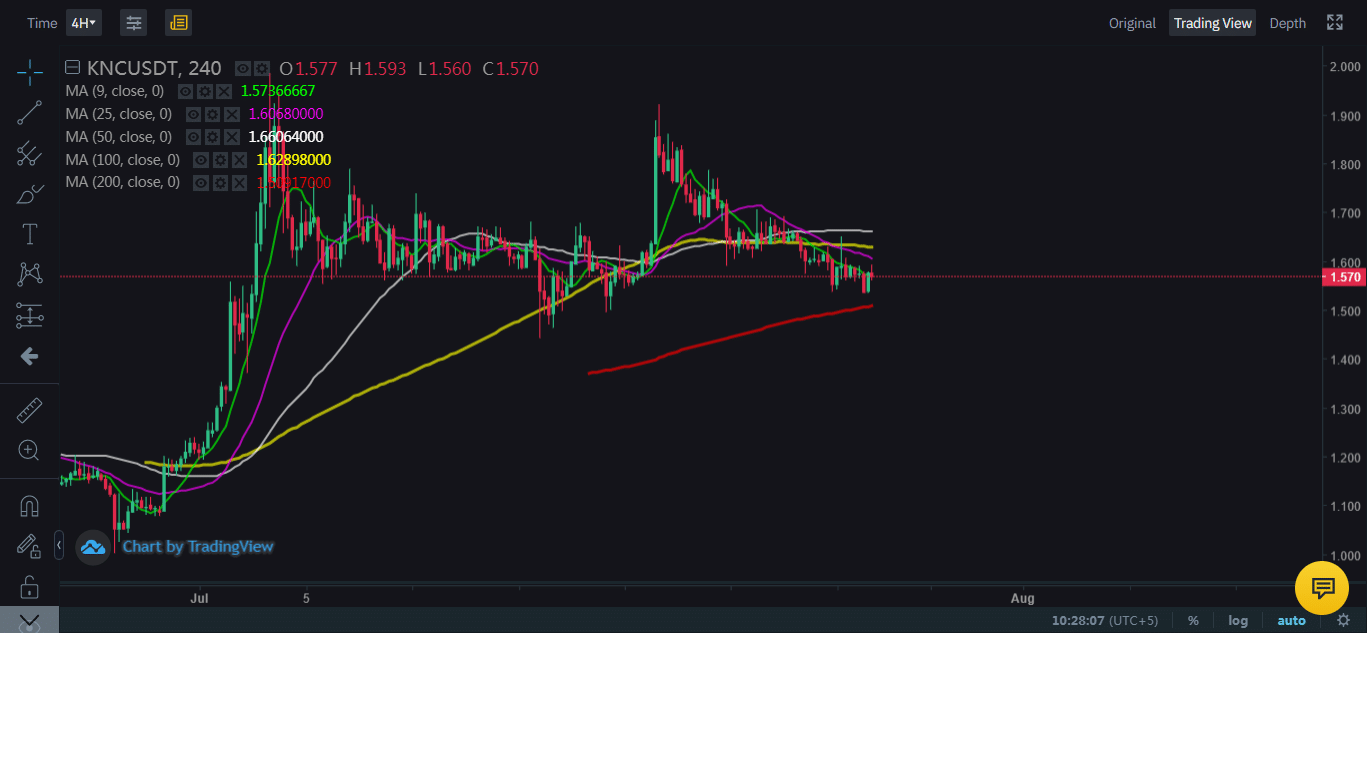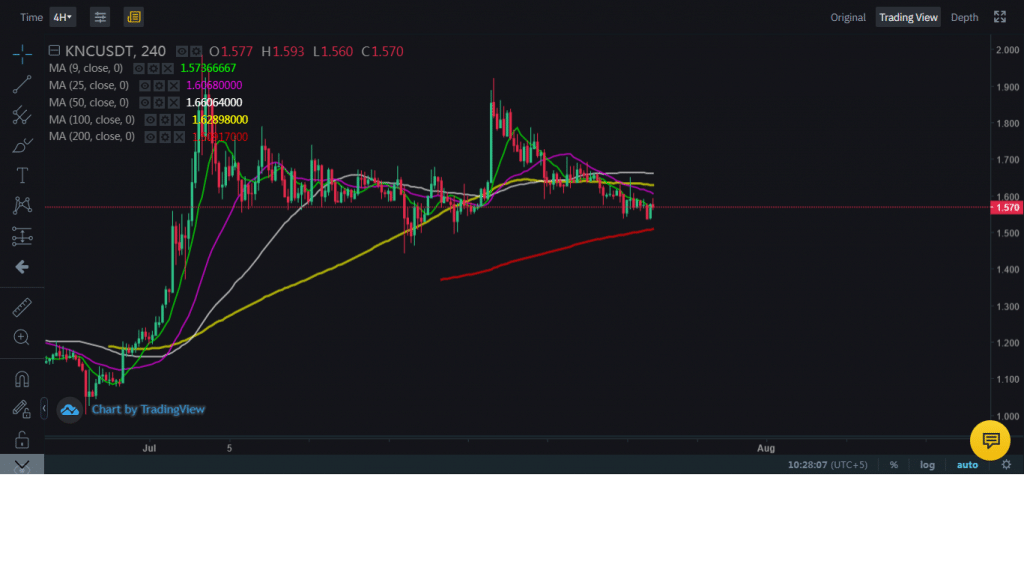 In this example, the red line is the 200 four hours moving average of KNC coin.
Read: Phemex Review-Exchange With Ten Times Fast Trading Engines And Zero Spot Trading Fees
Considering this moving average our main support, it is best to set up our stop loss below this red line.
To set up a stop loss go to "sell" sections and select stop limit.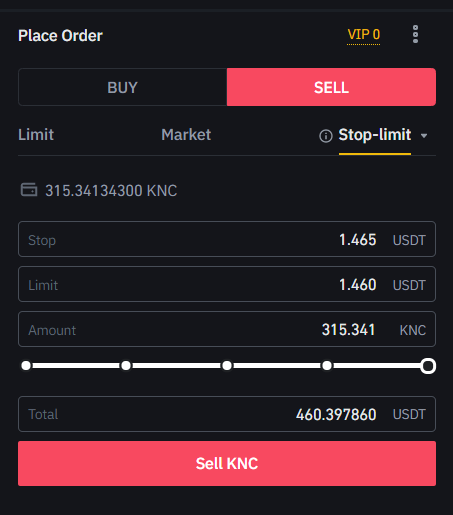 On the above image, you can see the stop loss window.
Our stop price is 1.465 that is below the main support of 4 hours, 200 moving average.
Our limit price is 1.460 which is lower than our stop price.
The limit price or the limit order is always the actual price where your coins are sold.
As soon the market price will hit our stop price a limit order to sell 315.341 KNC will place immediately on the order book.
If our stop loss order is filled we will face 40 USDT loss on our 500 USDT trade.
In placing a stop loss, a confirmation window always appear before placing actual order, read those statement carefully before placing your stop loss.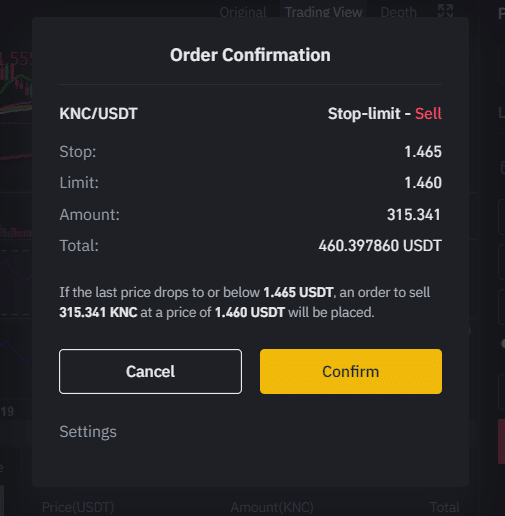 The stop loss statement is so self-explanatory, that if the price of KNC coins drops to or below 1.465 and order to sell 315.341 coins will be placed for 1.460.
After reading the statement and clicking on "confirm" Binance will generate stop loss order.
Your stop loss order will be shown in the section of the open order at the end of your trading page.
Like advance exchanges, Binance will show a red line where your stop loss is placed with the necessary details.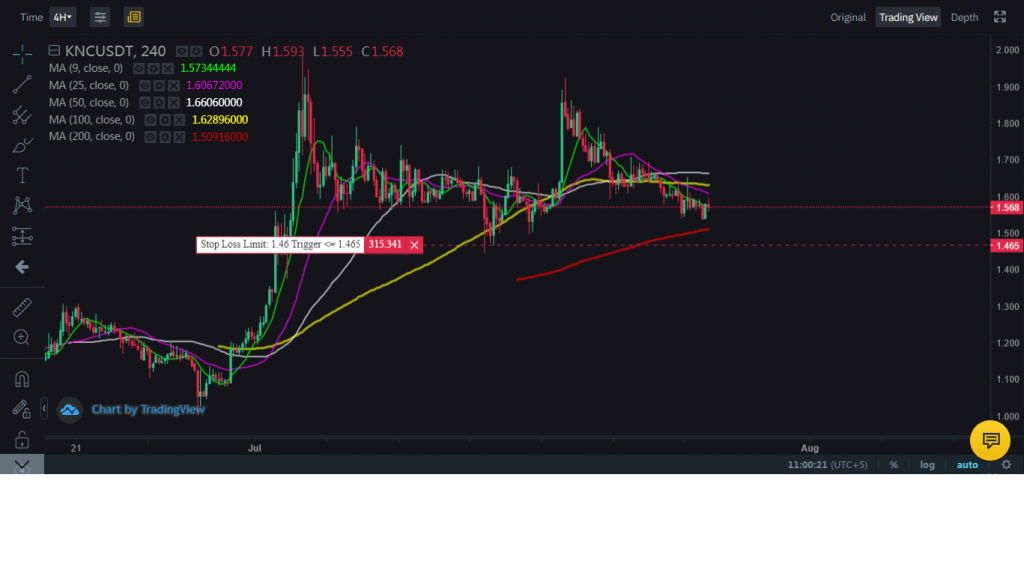 It is as simple as that, Nothing technical in setting up a stop loss on Binance.
One important thing that our readers must know is that Stop loss order is always placed on the exchange order book only when the stop price is reached.
And your limit order will only be filled if the market price reaches your limit price.
Sometimes market price reaches the stop price as a result limit order start showing in the order book, but the market price does not fall much to reach the limit price so in such case limit order will not be filled.
Watch How To Set A Stop Loss On Binance.
Binance OCO orders
The Binance feature of the OCO order is a great tool for cryptocurrency traders.
It enables traders to do other unavoidable things in life and not to sit in front of their PCs 24/7 to avoid losses or miss profit opportunities.
Have a look at 34 Most Recent Vechain Partnerships
What is an OCO order?
We will not define OCO order in technical terms, there are thousands of technical definitions of OCO orders.
In simple words, OCO order is the type of order that empowers traders to set up a take profit order and stop loss order on every single trade, at a time.
Read: Buy Bitcoin With Walmart Gift Card-How And Where?
Suppose you purchased 500 Cardano coin, OCO order will allow you to set up a take profit order at a higher price from your purchased price, and at the same time, you can also place the stop loss order to avoid losses on the same trade.
Meaning you can bound your single trade in two limits. The upper limit is your take profit limit, where you want to sell for profits and the lower limit is your stop loss order.
How To Use OCO Order In Binance
Using the OCO order in Binance is not complicated.
Let's continue our example of KNC coin.
To use OCO orders go to the "sell" section of your spot trading window and select "OCO".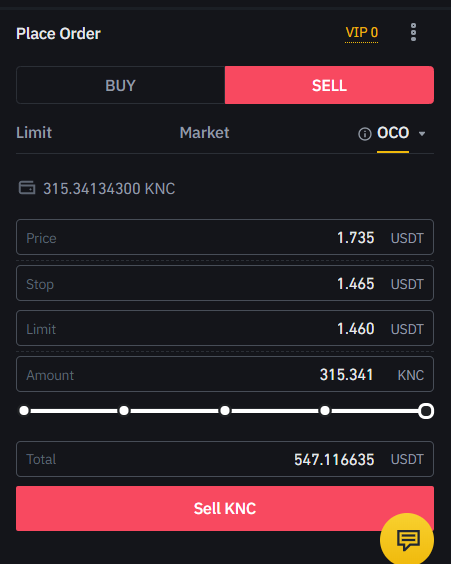 The first column of the OCO order is the "Price".
Here you can enter the price that is higher from your buy price.
It is your take profit price.
In our case, we have purchased KNC coins at 1.540 and set take profit price in the OCO order at 1.735 which is higher than our purchased price.
Below "price" is the "stop" and "limit" sections which are used to set up a stop loss.
Read 3Commas Review-Best Crypto Trading Bot
The "amount" section tells how many coins you are willing to sell, In our example, we are selling 100% of our KNC coins.
The last section of "total" tells how much return you will get if the market price hits your take profit price.
Now by clicking on the "sell" button our OCO order will be placed.
You can see your OCO orders on the bottom of your trading window.

Always recognize that for every single trade, the OCO order will generate two orders.
The first will be taking profit and the last will be stop loss.
Read: What is Dogecoin Cloud Mining And Dogecoin Mining-How To Do Them Properly
The most important thing to remember about OCO order is that if any of order get filled first the other order will be canceled automatically.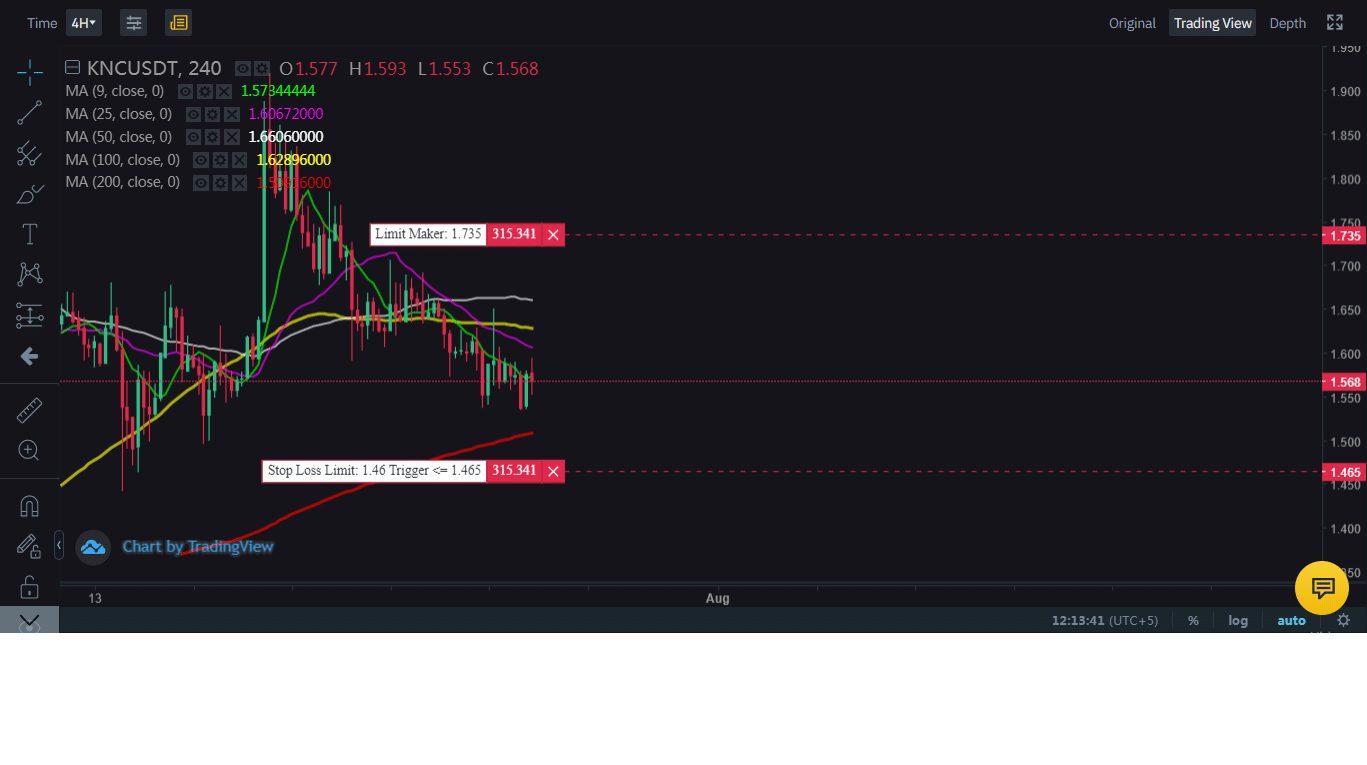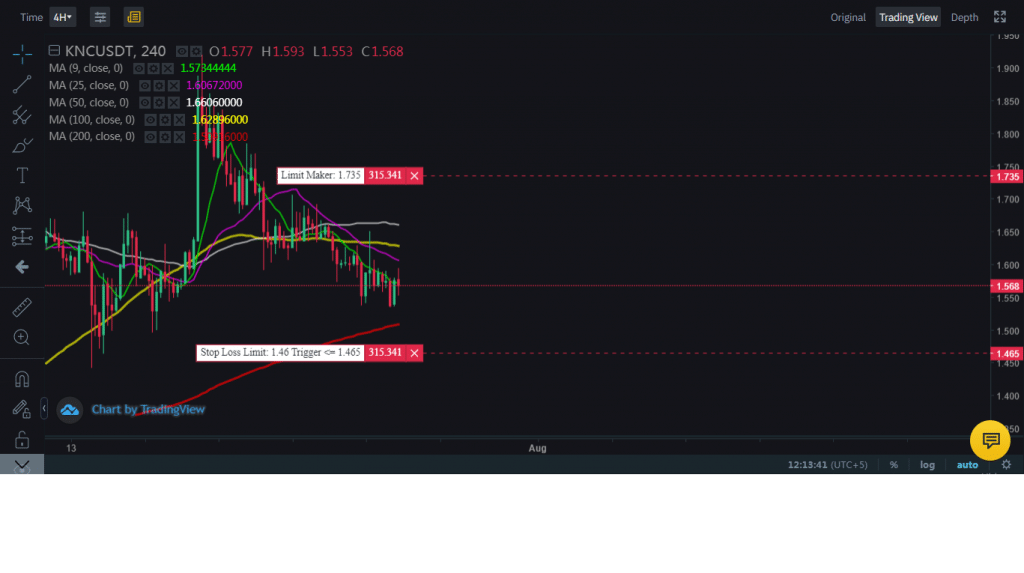 You can see in the above image that now two lines are indicating OCO orders.
With the help of Binance OCO orders, traders can limit their trades in two boundaries.
They can benefit from any price increase or place a stop loss if the price goes opposite, which makes their trading a lot easy and comfortable.
See what are the Top 9 Best Cryptocurrency To Invest In 2020
Conclusion
Stop loss is a must for any style of trading. prices of cryptocurrencies move fast, so to avoid major losses, stop loss is the compulsory action that should not be neglected.
Binance is making the life of traders very easy by the virtue of OCO orders. Binance OCO order is very straightforward to set up and should be practiced.
Follow Us on Twitter and Facebook.
Disclaimer: This content is informational and should not be considered financial advice. The views expressed in this article may include the author's personal opinions and do not reflect The Crypto Basic's opinion. Readers are encouraged to do thorough research before making any investment decisions. The Crypto Basic is not responsible for any financial losses.
-Advertisement-