Can Bitcoin Make Michael Saylor world-first Trillionalirre? Isn't that an intriguing question?

Although Michael Saylor is way behind, with just 2.6 billion dollars as net worth, he is the only one who is betting all of his stakes on Bitcoin, converting every dollar he can, hoping that BTC will become one of the currencies most used than any other.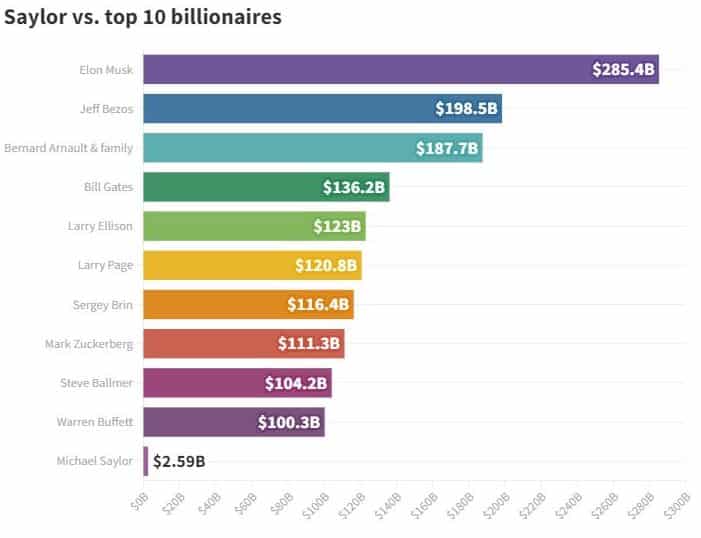 Image source: Protos
A study by Protos tries to assess how Michael Saylor can become the world's first trillionaire thanks to his investments in Bitcoin.
In addition to having bitcoin in his own portfolio, around 17,732 BTC, Saylor is also betting heavily on Bitcoin through his company, MicroStrategy which currently holds 121,044 BTC.
While Saylor lags far behind in the world's first trillionaire race, with other billionaires being much closer to hitting that mark, it's possible he will outpace several other billionaires as his company continues to buy more Bitcoin that continue to increase in value.
For Saylor to be the first trillionaire in the world he must run against time. It is expected that Musk or Bezos will become the first trillionaires before 2026.
Bitcoin aside, Saylor maintains a 23.7% stake in MicroStrategy, which roughly works out to be $1.25 billion after accounting for the company's debt (he controls 70% of the voting power, however).
Proto's report says that for Saylor to outrun all billionaires, BTC must rise to $728,600 by 2025, increasing its value by 13 times, MicroStrategy also needs to continue accumulating satoshis. To be more exact, the company needs to have 5,135,544 BTC in cash, about 42 times more than it has today, for Saylor to become the first trillionaire.
If the above conditions are met then according to the report, in 2025:
"MicroStrategy would itself boast $3.87 trillion in market value. It would likely be the largest publicly-listed company in the world.
Saylor's stake in MicroStrategy, if left unchanged, would hit an enormous $916.9 billion.
Saylor's personal assets, presumed to be made up of yachts, real estate, stock, and the like, were also appreciated in this time.
Overall, we calculated Saylor's personal assets (outside of his Bitcoin and MicroStrategy shares) would be worth $75.4 billion by August 26, 2024 – up from around $326 million today.
Saylor's Bitcoin would've grown to $12.9 billion. This brings his fortune beyond $1 trillion."
Will he be able to become the world's first trillionaire or not, but we can analyze that Saylor made a good choice so far. Michael Saylor himself said: "If I Had Chosen Gold Instead Of Bitcoin Last Year, It Would Have Been A Multi-Billion Dollar Mistake"
Read More On Michael Saylor: