This 1inch exchange review will answer all your questions about top-performing dex exchange.
As Decentralized Finance is hyping many defi projects are popping every day.
1inch exchange is among those innovative projects that are winning fame in the Defi revolution.
Good projects on which people can believe are regularly the demand of the blockchain industry as scammers and hackers are highly active in cryptocurrencies.
1inch exchange is in those projects that people can believe.
What is 1inch Exchange?
Two Russian developers Sergej Kunz and Anton designed 1inch exchange.
1inch exchange backed by Binance introduces a concept of dex aggregator, 1inch exchange gather prices and liquidity from all top decentralized exchanges into its exchange, which makes it uncomplicated for traders to get the most favorable prices for their trades.
A single trade on a 1inch exchange is divided across multiple dex's, guaranteeing the user receives the most desirable price available.
As a core of Defi is that users should be fully in charge of their funds, 1inch exchange does not retain any user's funds.
Being a defi exchange, all funds are held in user wallets like Metamask.
Trades are conducted by connecting wallets to 1inch exchange.
[maxbutton id="19″ ]
1inch Exchange Features
1inch is becoming widespread because of some following aspects:
As decentralized exchanges are comparatively new, they cannot compete with the liquidity and volume of a centralized exchange, so 1inch exchange is attempting to resolve this predicament by providing liquidity and prices of multiple dex exchanges on a single platform.
1inch exchange does not store any of the user's funds. All funds are kept in the user's ERC20 wallets.
Users have literal control of their coins. They can determine the exchange to sell and buy their coins.
No need of KYC, No need to make an account, just connect your wallet and start trading.
Low risk of hackers attacks, as no reserves are kept on 1inch.
1inch Exchange Spread across Dexes
1inch exchange has integrated order books of following dex exchanges, meaning that any order placed on 1inch exchange will automatically be placed on these following exchanges.
Kyber.
Mooniswap.
Uniswap.
Uniswap V2
Oasis.
PMM.
Bancor.
Pathfinder.
Balancer.
Air Swap.
0x Relays.
More Dexes will certainly be integrated with time.
1inch Exchange Fees
1inch exchange does not impose any fees on its transaction, but users have to pay the gas fee.
As every transaction is handled on the Ethereum network so all transactions require to pay Gas fees.
On every trade that a user desires to buy or sell any particular asset on 1inch exchange, it shows what pricing and gas fee of that assets are offered on other Dex exchanges.
1inch Exchange has also started CHI Gas Token to pay transaction costs on 1inch.
Transactions can be 42% more affordable if users favor paying charges in CHI tokens.
CHI token is pledged to gas price on Ethereum meaning that if the price of Gas token goes high so does the CHI token.
1inch exchange doest not claim any withdrawal fees. As the exchange does not deposit any funds so there is no withdrawal from it nor any fees.
If a user desires to withdraw funds they can do so from their ERC20 wallets like Metamask.
1inch Exchange Supported Wallets
1inch supports the following Erc20 wallets:
Metamask.
Trust wallet.
Torus.
Formatic.
Wallet Link.
Portis.
Authereum.
Unilogin.
Wallet Connect.
Bitski.
Ledger.
1inch Exchange Volume
At the time of writing 1inch exchange has 65,252,937 dollars of 24-hour trading volume, 186 coins, and 196 trading pairs.
1inch Exchange Funding
1inch is funded and backed by prime investors like Binance Labs. Most freshly 1inch was able to secure 2.8 million dollars from the following investors:
Binance Labs.
Galaxy Digital.
FTX.
Kyber Network.
NEAR Protocol.
IOSG.
Greenfield One.
Libertus Capital.
 Dragonfly.
Capital.
LAUNCHub Ventures.
Divergence Ventures.
1inch Exchange Token
1inch exchange is going to launch its token (1INCH) in a couple of weeks.
Purpose of 1INCH token
To guarantee the participation of 1INCH holders in exchange development and governance.
To gain funds for further future development.
For staking purposes.
Distribution of 1INCH token
1INCH token distribution is as follows.
30% of 1INCH token will be assigned for 1inch exchange security.
22.5% 1inch token will be applied for 1inch exchange team members.
21% of 1INCH tokens will be practiced to yield farming and community development.
5% for 1inch exchange advisors and 2% for first liquidity providers on Mooniswap.
Liquidity Mining and Yield Farming
After the launch of the 1INCH token, 1inch exchange will begin liquidity mining and yield farming.
All rewards earned by liquidity mining and yield farming will be in the shape of 1INCH token, the tokens earned by mining and yielding can then be swapped by other coins.
How To Use 1inch Exchange?
1inch Exchange is a dex aggregator, users can swap tokens and place limit orders on 1inch Exchange.
What makes 1inch Exchange a dex aggregator ? is that the orders placed on 1inch Exchange are not only placed on 1inch Exchange own order book but also the orders are placed across multiple decentralized exchanges order books, providing more liquidity and favorable prices.
So that is why 1inch Exchange is a dex aggregator.
How To Connect Wallet With 1inch Exchange?
To connect any supported ERC20 wallet with 1inch exchange:
Click on "connect Wallet" on the top right of the 1inch exchange.
A popup window will appear displaying all of the supported wallets.
Select any wallet from the list that you aspire to attach.
You should be signed in, into your wallet to connect 1inch exchange.
As you will pick your desired wallet a popup window of your wallet will appear asking to permit a connection between your wallet and 1inch exchange.
Click on "connect" or "Authorize" to establish a connection.
That is it, your wallet is now combined with 1inch exchange. It is as simple as that.
How to Swap Tokens On 1inch Exchange?
Swapping tokens on 1inch exchange is simplistic as everything is straight forward.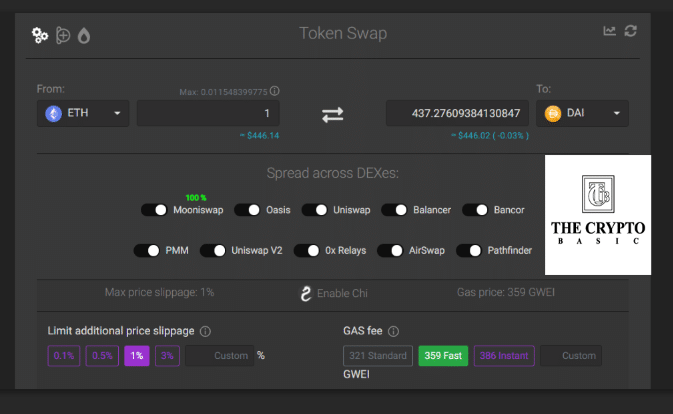 When you will move to 1inch exchange, the swap option will be directly in front of you, presented on the front page of 1inch.
In the "From" segment pick the coin that you desire to swap or giveaway.
In the "To" section, choose the coin that you require to get. This will be the coin you will get in return. As shown in the image above we are giving 1 ETH to get appx 437.9 Dai Tokens.
Below "From and To" you can notice the "Spread Across Dexes" section. In this section, you can exclude or later include any dex exchanges that are available for swapping. If you do not modify this option than the swap will be automatically administered on the Dexes with the best rates. 1inch exchange also takes into account gas prices while swapping.
A percentage stated above Dexes name reveals how the transaction will be completed, either 100% on a single dex or split across different Dexes.
You can further adjust price slippage and gas fees.
To customize these settings click on the "Gear" button that is present on the top left of the swap window.
Here you can pick different price choices available for gas fees or price slippage. You can also manually enter the values on the custom field.
If you desire your transactions to be fulfilled racing, then raise the gas fees, your transactions will be concluded on priority.
After doing all settings click on "Swap Now", a confirmation window will open on 1inch Exchange, read again the details of your swap transaction and click on "Verify"
Now a pop window of your wallet will open, authorize your transaction and that's it, You had made your first swap on 1inch.
How To Set A Limit Order On 1inch Exchange
Limit order on 1inch exchange is placed on 0x mesh network through 1inch UI.
This order is not for any particular party, as a limit order has defined conditions and rates so it can be filled by anyone.
When the market hits the set price, the limit order will be filled.
To place a limit order select "limit order" from the top menu bar.
A window will open as presented in the above image.
From the "Maker Asset, Decide the coin you want to sell and enter the amount.
From the "Taker Asset" choose the coin you want to buy.
In the "Rate" part, insert the rate you want your order to be fulfilled.
You can switch between Rate and Inverse Rate.
Enter the time of your limit order in the "Duration" section.
After doing all settings click on "Set Limit Order".
A popup window of your wallet will arrive, confirm your transaction to set your limit order on 1inch exchange.
Once the limit order is set you can see it at the end of the page.
The limit order can be filled completely or partially depending upon the market liquidity and the time limit you inserted.
How To Earn With 1inch Exchange
1inch also enables earning tokens by providing liquidity or lending on popular defi projects.
Read details on How to earn with 1inch
How To List A Token On 1inch Exchange
To list a token on 1inch exchange you need to fill out a form.
And wait for 1inch team permission. The volume of a coin should be greater than 10 ETH to get approved.
[maxbutton id="19″ ]
Conclusion
1inch Exchange is backed by Binance Lab, It is a legitimate exchange with a highly qualified team.
Defi and Defi projects are in their very early stage, Investing in Defi projects can be very risky. Farming and swapping are subject to high gas prices. Do very deep research on any Defi Investment.
Please comment if you want to know any details about 1inch.
Read More Informative articles:
Uniswap Review-Complete Guide & Tutorial on Swapping & Pools
Binance Funding in Top 6 Defi Tokens-Complete Details
Best 9 Upcoming Defi Tokens Backed By Top Investors
What is Uptrennd Coin (1UP)-What Makes Uptrennd Special?
How To Set A Stop Loss On Binance And OCO Orders
Phemex Review-Exchange With Ten Times Fast Trading Engines And Zero Spot Trading Fees
7 Best Alternative To Coinbase For Trading Cryptocurrencies
How To Trade Cryptocurrency-Best Cryptocurrency Trading Strategies
what are the Top 9 Best Cryptocurrency To Invest In 2020
Best 12 Profitable Staking coins List and Exchanges
Are Trading Bots Legal? Why Use Trading Bots? Are They Profitable?
Follow Us on Twitter and Facebook.
Disclaimer: This content is informational and should not be considered financial advice. The views expressed in this article may include the author's personal opinions and do not reflect The Crypto Basic's opinion. Readers are encouraged to do thorough research before making any investment decisions. The Crypto Basic is not responsible for any financial losses.
-Advertisement-