In this article, I have attempted to guide in a very comfortable way How To Set A Stop Loss On Binance Futures.
Futures trading,  also known as leverage trading is becoming extremely popular.
Why not take extra profits from the extremely volatile nature of cryptocurrencies by implementing leverage on your trades.
But with bigger profits comes higher losses. The more the leverage the huger the loss will be and your account can be liquidated in a matter of minutes.
No one desires to lose all of its capital. You should be left with something to carry on your trading. That is where stop loss will help you from getting rekt.
The chief difference between the spot and futures (leverage) trading is liquidation.

In spot trading, if you are down 50 to 100 percent form your buying price, your account will not be liquidated. You can still hold your coins hoping that their price will increase.
But guess what if you are playing with 100X leverage on Binance futures trading and price goes down only 1% from your entry point, then you are done, you are gone, your account is liquidated meaning you are left with nothing. zero account balance.
What is Leverage Trading on Binance Futures?
To do Binance futures trading, you must understand the concept of leverage trading.
I try to explain every topic in very simple English so that my website visitors can easily understand the core concepts.
Leveraged trading is usually for advanced traders, that can get in and out of positions swiftly and can efficiently identify trends.
Amateurs traders should be quite careful while doing leverage trading. Use of Stop Loss is a must for new traders. It is more suitable to take some loss than to liquidate your account and left with nothing.
Leveraged trading is basically opening a trade with a much larger amount than a trader real capital which he or she owns.
Suppose a trader has 100 USDT in his, her Binance futures account.
He uses 10x leverage on any trade. Now his capital is multiplied 10 times and becomes 1000 USDT.
Any profit and loss you make will be multiplied 10 times.
If your trade with 10x leverage goes in profit of 10%, your net profit will be 10×10=100%.
Meaning that you have earned an extra 100 dollars on your initial capital of 100 USDT. Now your net balance is 200 USDT.
But wait what if your trade goes the other way and it is down 10% from your entry point with leverage of 10x.
Now your total loss will be 10×10=100%.
Meaning that your account is liquidated and your net balance is 0 USDT.
The foremost benefit of leverage trading is that you can invest some percentage of your capital and still can trade big.
If you have 1000 USDT in your Binance futures account you put only 100 USDT on a trade and still trade big by applying leverage up to 1x to 125x depending upon the coins.
| | | |
| --- | --- | --- |
| Initial Amount | Leverage Applied | Tradable Amount |
| 100 USDT | 5x | 500 USDT |
| 100 USDT | 10x | 1000 USDT |
| 100 USDT | 20x | 2000 USDT |
| 100 USDT | 50x | 5000 USDT |
| 100 USDT | 100x | 10,000 USDT |
The main downside of leverage trading is your account can be liquidated if your risk management is not proper.
How To Set A Stop Loss On Binance Futures
Setting up a stop loss on Binance futures is really easy. It should be your common practice.
Before entering any trade, whether you are long or short, you must figure out when to get out of a trade, when it goes the other way.
Getting a small loss is far better than liquidating your account.
In Binance futures stop loss is not alone, it comes with take profit order.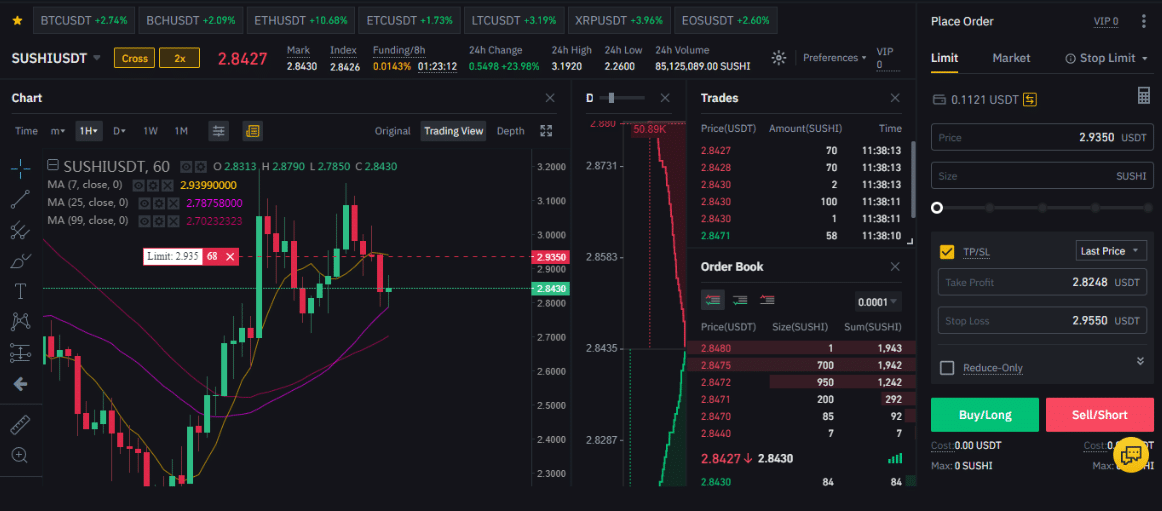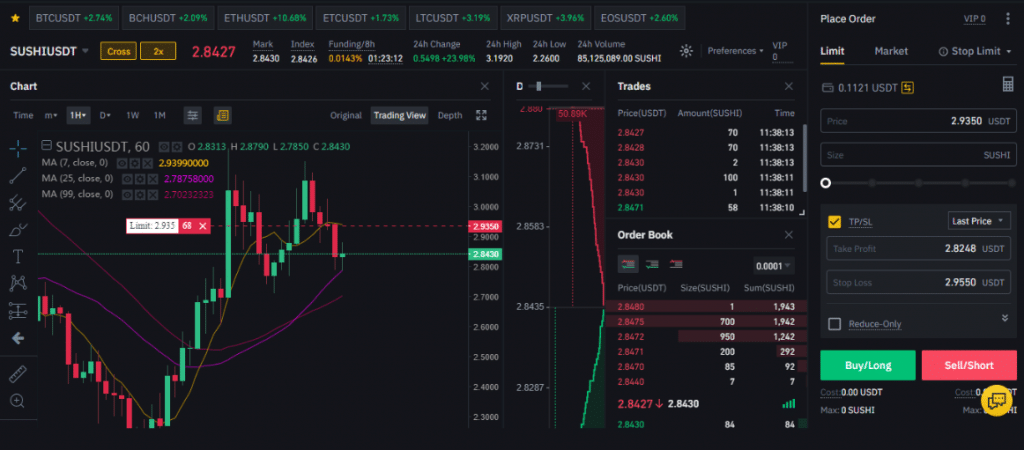 First of all, set your leverage. If you are new to Binance futures try to apply small leverage.
I have applied leverage to 2x in my trade.
There are three types of orders that you can pick from the "Place Order" tab. Limit, Market, and Stop Limit.
On your limit and market orders, you can pretty effortlessly set take profit and stop-loss order.
In the Limit and Market order, there is an option available below TP/SL.
This is Take profit and Stop-loss order.
Tick TP/SL to set this order as shown in the above image.
Enter the amounts on "Take Profit and "Stop Loss"
In my example, I am trying to trade on SUSHI/USDT pair.
My intention is to sell sushi at 2.935.
While setting my short order I have to define what will be my take profit and stop loss (TP/SL).
My TP is set as 2.8248 and my SL is 2.9550.
Now I will click on "Sell/Short" to place my order as shown in a red line in the above image.
As soon as my sell (short) order is filled, two more orders (TP/SL) will be placed automatically.
My take profit order is 2.8248 as I am selling sushi at 2.935. The more the price of sushi will go down from 2.935, the more profit I will have.
My stop loss for this trade is 2.9550, which is above the price of 2.935. The more the price of sushi will go above 2.935 the more loss I will have if I am not practicing a stop loss.
That is how uncomplicated it is to place a TP/SL order on Binance futures.
Important Points
Unless any order placed on Binance Futures is filled it keeps showing in "open orders" present below the page.
Once any Long or Short order gets filled it becomes positions and starts showing in the "Positions" tab.
When any of the TP or SL hits first the other order will be canceled automatically.
How TP/SL Will Look Like Once Order Is Filled

Once your order is filled it becomes your position. Remember that I am shorting SUSHI/USDT.
In the above image now the red line is the point where I shorted sushi, It is now my position.
If the price goes down from this point I will be in profit and vice versa.
The above green line starting with "Stop Market Trigger" is my stop loss. If the price reaches that green line I will stop out from my position.
The below green line "Take Profit Trigger" as soon the market price will reach my take profit price, my position will close and I will be in profit.
Again I want to mention that if any of my Take Profit or Stop Loss order hits first, The other order will be closed automatically.
Important Point
If you want to cancel any order, press on the cross, it will be canceled. The other order will remain.
Suppose you want to cancel take profit order so that you can take profits of your desire, simply press the cross button on "Take Profit Market Trigger", the Take Profit order will be canceled, and Stop Loss will remain.
How To Adjust Take Profit/Stop Loss At Any Time
Binance is admired by many because it offers many features that traders love.
You can customize your Tp/SL at any time of your trade.


On the above image at the very end, Under TP/SL there is a small icon of a pencil.
Click on this icon, a new window will open. Adjust your TP/SL according to your situation.
If your order is not filled it will be in "Open Orders".
You can also adjust the TP/SL of your open orders as well.
How To Close Your Binance Futures Positions
With these modern trading interfaces closing a position is very straightforward.
In the above image, under "Close All Positions" there is an option of "Market" and "Limit".
By clicking on "Market", your position will be closed immediately at market price.
Close to "Limit" there are two boxes. In the first box, you can enter the price at which you want your position to be closed. In the second box, you can enter the size of your position. Do you want to completely or partially sell your position size?
If you are still confused or have any questions regarding How To Set A Stop Loss On Binance Futures contact me on support@thecryptobasic.com, or comment below.
What is Yearn Finance (YFI) and Yearn Finance 2 (YFII)-How To Earn YFI And YFII
What is Curve Finance (CRV)-How To Earn CRV By Providing Liquidity
1inch Exchange Review And Tutorial
Uniswap Review-Complete Guide & Tutorial on Swapping & Pools
Binance Funding in Top 6 Defi Tokens-Complete Details
Best 9 Upcoming Defi Tokens Backed By Top Investors
What is Uptrennd Coin (1UP)-What Makes Uptrennd Special?
How To Set A Stop Loss On Binance And OCO Orders
Phemex Review-Exchange With Ten Times Fast Trading Engines And Zero Spot Trading Fees
7 Best Alternative To Coinbase For Trading Cryptocurrencies
How To Trade Cryptocurrency-Best Cryptocurrency Trading Strategies
what are the Top 9 Best Cryptocurrency To Invest In 2020
Best 12 Profitable Staking coins List and Exchanges
Are Trading Bots Legal? Why Use Trading Bots? Are They Profitable?
Gunbot Review-A Bot Especially Designed To Trade BTC Pairs
34 Most Recent Vechain Partnerships
Buy Bitcoin With Walmart Gift Card-How And Where?
3Commas Review-Best Crypto Trading Bot
Dogecoin Cloud Mining And Dogecoin Mining-How To Do Them Properly
Cryptohopper Trading Bot Review
What is cryptocurrency staking
What Is Cryptocurrency Mining?
What is Ethereum-How Does it Work
What is Bitcoin and How Does it Work?
How to Buy Bitcoin Cryptocurrency?
Key Points when selecting cryptocurrency exchanges
Follow Us on Twitter and Facebook.
Disclaimer: This content is informational and should not be considered financial advice. The views expressed in this article may include the author's personal opinions and do not reflect The Crypto Basic's opinion. Readers are encouraged to do thorough research before making any investment decisions. The Crypto Basic is not responsible for any financial losses.
-Advertisement-