Vechain price is consolidating in the range of $0.082 to $0.089 since 1st, July. Which is a bullish sign as strong consolidation could lead to big upward price movements, but Vechain might retest the demand zone of $0.0782 before reaching $0.10.
Read: Vechain Real World Transactions
If VET bounces off from the current price range of $0.080-$0.085, investors can expect an 12% rise to the $ 0.0924 resistance level. Overcoming this area could cause VeChain to hit the $ 0.10 barrier, further up 18%.
Read: San Marino Approves Vechain Powered National Digital Vaccination Passports And Why It Matters?
In a very bullish case, the bulls could try to push the VET towards or around the 50% Fibonacci retracement level at $ 0.105, which represents a 35% rally from the $0.0782 support.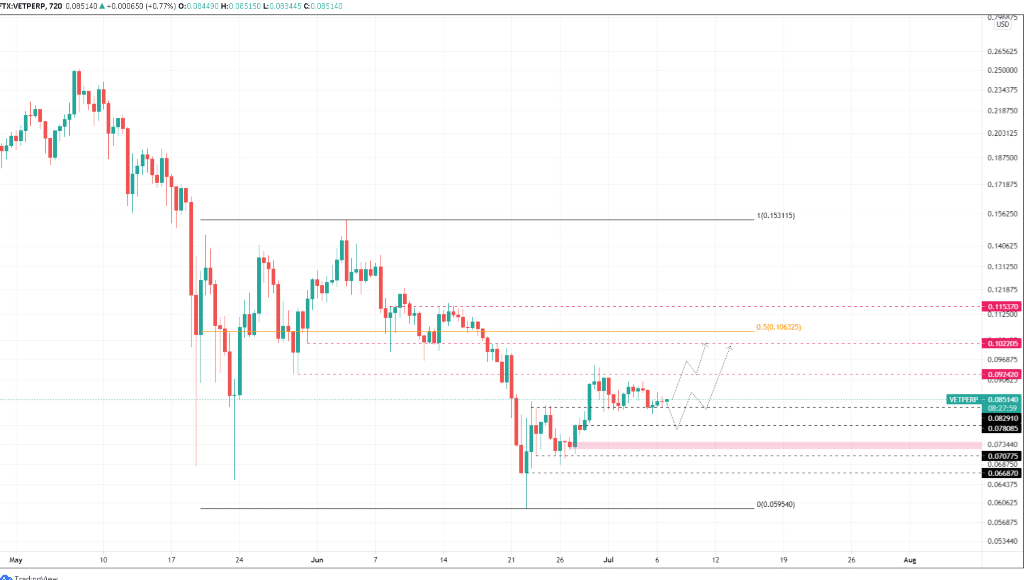 The price of the Vechain is currently hovering above the support at $0.083 and may fall slightly if there is selling pressure. Thus, investors can expect a correction to $0.083 or a demand zone extending from $0.0721 to $0.0739.
Read: A Comprehensive Long List Of Vechain Food Safety Use Cases
Since Bitcoin is showing a bullish bias, altcoins are likely to follow suit. If BTC goes to $40,000, VeChain's price could easily slide through $0.10 and touch the $0.115.
Red: Suzhou City Launched "Changan Code" Based On Vechain Toolchain Covering More Than 300,000 Local Residents


While things look good for VeChain price, a breakdown of the $0.0829 level will lead to a drop into the demand zone, which stretches from $0.0721 to $0.0739. This move will not have a negative impact on the optimistic outlook. However, a decisive 4-hour candle close below $ 0.0709 would invalidate the bullish thesis, and VET price can fall to $0.0667.
Read: VeChain Blockchain Milestones In Epidemic Prevention