In our previous Vechain price analysis we mentioned that Vechain was waiting for a Golden cross to happen for a strong price increase. The bullish Golden Cross displayed on the six-hour VeChain chart, occurred When the 50 six-hour SMA crossed over the 200 six-hour SMA. The golden cross on 6H chart helped Vechain for a 30% price increase.

VET is currently consolidating at $0.106 in the middle trading range. Vechain is now targeting China's pet food market as a further step to adoption. If any new partnership is announced with China pet food companies, then Vechain price can explode as overall market is bullish.
As bullish momentum has slowed a bit, the sideways Vechain price movement could result in a breakout in any direction but investors can expect gains due to the overall positive market structure.
China Pet Food Market
VeChain aims to standardize variables in China's pet food market. This market is dominated by counterfeit and substandard products.
VeChain plans to revolutionize the $1.1 Billion market through blockchain technology. The entire lifecycle of the product will be incorporated into blockchain. This includes traceability of the entire value-chain, as well as proof of origin and proof of ingredients.
Vechain foundation Said:
"VeChain, the world's leading public blockchain provider aims to revolutionize pet food traceability, safety and marketing by providing multiple layers of benefits through its full services across the entire lifecycle of the supply chain.
Already, VeChain has engaged with multiple companies in the pet food industry, and many of them have expressed interest in blockchain technology to solve the aforementioned problems and pain points."
VET Price Analysis:
VeChain price jumped 98% between July 20 and August 8, peaking at $0.11. The Momentum Reversal Indicator, (MRI), gave a sell signal with a red "one" candle on the 12-hour chart. This indicated that a decline was possible. So Investors can expect VET to return to the support of $0.095. This will relieve the pressure on VET and allow  buyers who are willing to buy VET at little discount to join the party.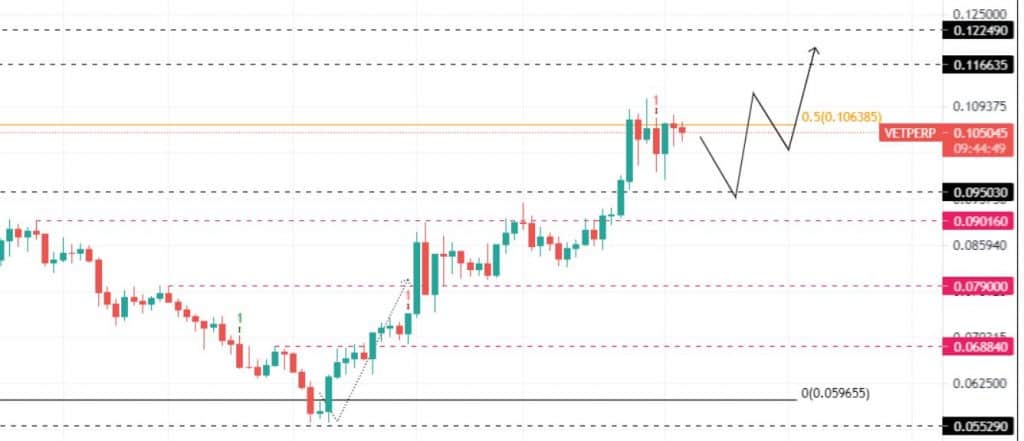 This resulting uptrend will likely cause the VeChain to surpass the 50% Fibonacci Retracement Level at $0.106. A decisive 12-hour candle close above $0.106 will confirm a renewed rally. Market participants can expect VET rise to $0.115 and then $0.121.
The bullish thesis would be disproven if the swing low at $0.0824 is broken.
If there is a decline the first support is present at $0.095. Breaking this support will signal weakness among buyers and could enable the bears break the next level of $0.0902.
Large Buyers are expected to move in at $0.0902, but a further downside movement and a break below $0.0824 would be a setback for bullish sentiments and open the door to further declines.