In our previous Vechain price analysis we mentioned VET was Looking For A Major Bullish Breakout, but Vechain price has fallen downwards from the ascending triangle on daily chart, as bears are taking control. Also 50-day simple moving average (SMA) will trigger a bearish death cross over the next week.
Read: Twitter And Square CEO Jack Dorsey Confirms Square Is Building a Bitcoin Hard Wallet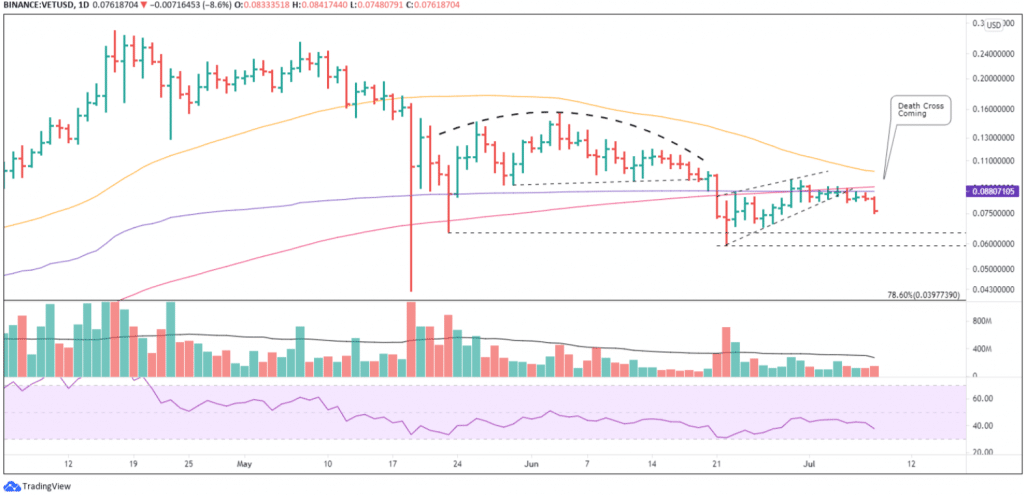 VeChain price has built a bearish flag pattern as shown in the chart, after the June 22 low, VET price is rejected by the resistance indicated by the 200-day SMA present at $0.090.
Read: Bank of America Launch Their Crypto Research Team
Under the weight of strong resistance, VET price broke out of the bearish flag pattern on July 5 and is demonstrating a convincing bearish fallout.
In line with the current price structure, VeChain price is predicted to test the May 23 low (0.055) or June 22 low (0.060).
Read: John Mcafee Widow: I Do Not Accept The "Suicide Story" That Has Been Spread By The Main Stream Media
In worst cases Vechain can fall 55% from the pattern breakout.  A death cross is which is a bearish signal is also coming where 50 day SMA is going to cross 200 SMA, that can cause strong selling pressure.
Read: A New Bill Submitted By Argentine Lawmaker Propose Bitcoin Salaries
To break the bearish narrative, the VeChain price needs a daily close above $0.088 and the 200-day SMA at $0.090. However, the VET will quickly face a stiff resistance from 50-day SMA at $0.01.
Read: Vechain Real World Transactions
VeChain price momentum is clearly declining after yesterday 7% drop. The bears have established control over the digital asset, and if the price falls, bears will pick further momentum, VET could face a sharp 55% decline from the current price to reach a support of $0.036. It should be remembered that from June 21 to 22, VET decreased by about 40%.


Currently Vechain is trading in the demand zone of $0.070 to $0.080, so there is nothing to worry. But for bulls this demand zone must hold.
Read: San Marino Approves Vechain Powered National Digital Vaccination Passports And Why It Matters?
If this demand zone is able to face bears and absorb selling pressure, It will invalidate all bearish analysis and we could easily see Vechain price gaining upward momentum to touch $0.10 and reach second major resistance present at $0.14.
Key Support Levels: $0.070, $0.055
Worst Case Scenario: $0.036
Key Resistance Level: $0.088, $0.10