Interest in the term XRP has peaked and reached it highest compared to last two years. As a result the price of the third-largest crypto asset by market cap has more than doubled in a week.
Read: Why Ripple Price Explodes To Over 100% In Seven Days
According to Google Trends, interest in this Ripple project is now at its highest since late September 2018. The only time it exceeded its 2018 level was during the December 2017 – January 2018 peak.
Interest in XRP in the past 12 months: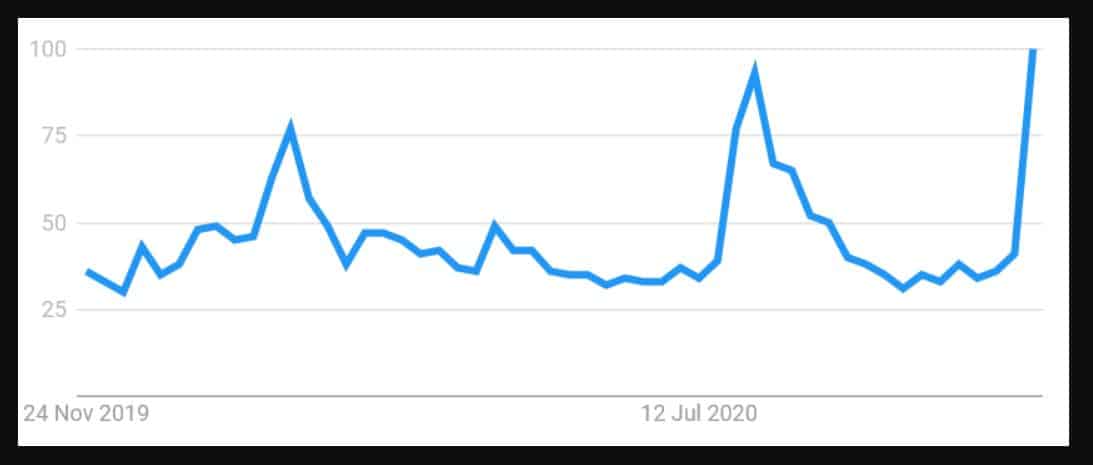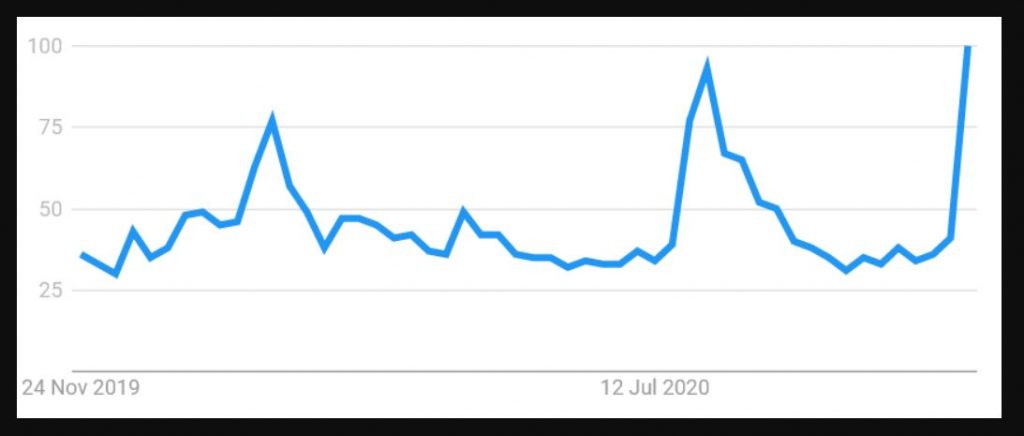 We can also compare this with the interest expressed in Bitcoin (BTC), which stands as a giant (the red line) above XRP (the blue line) according to the table below. BTC searches also peaked during the January 2018 frenzy, peaking again in mid-October 2020 and hitting the levels it previously saw in late June 2019.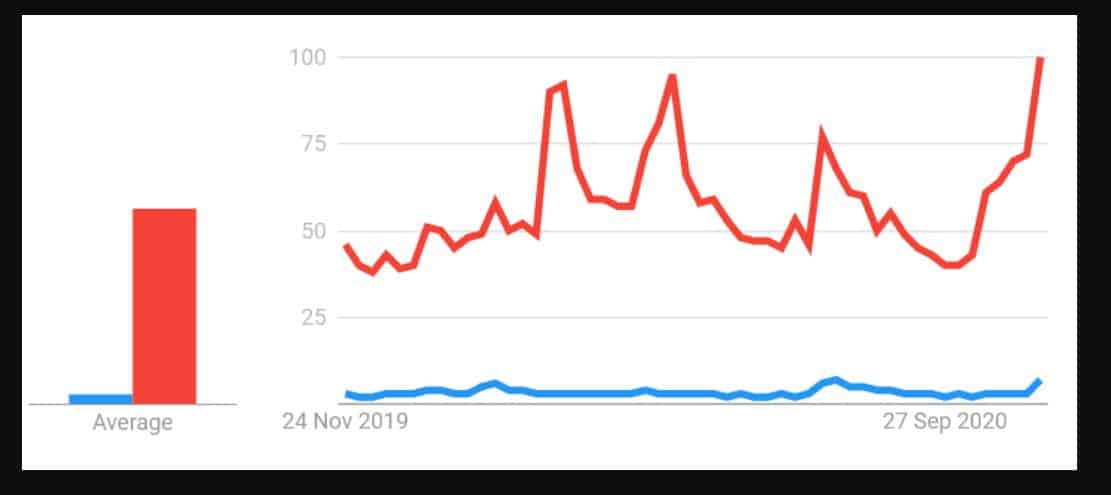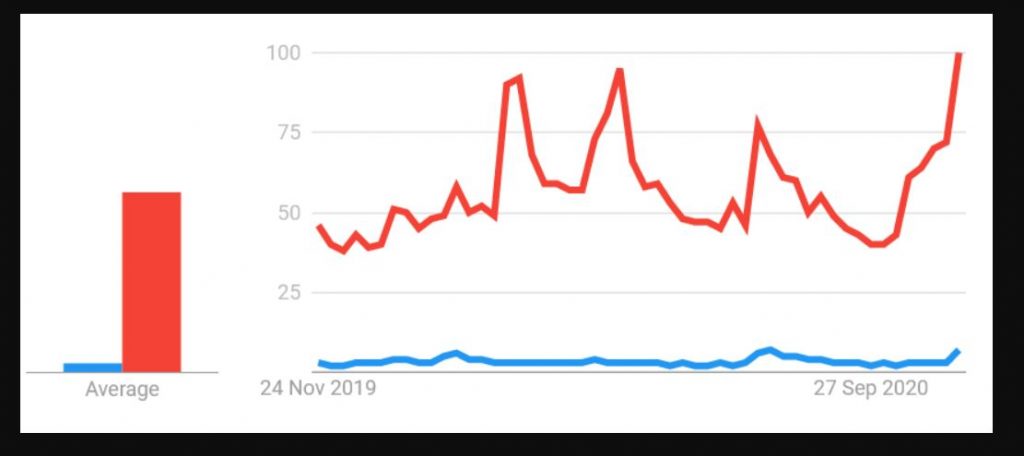 And while the XRP price rose to its highest point since May 2018 ($ 0.765), crypto analytics firm Santiment noted that the number of unique addresses executing transactions on the XRP network in one day (24,408) was the highest output since 1 May 2020.
Additionally, XRP rose to the second position of the most popular coin ranking website CoinGecko. Now stabilizing at third position above Tether.
XRP is the second most popular page on CoinGecko right now after our home page. Gosh, whyyyyyy. Up 50% in the last 24 hours and everyone is piling in now… pic.twitter.com/X69mJjOsz9

— Bobby Ong (@bobbyong) November 24, 2020
Then a twist. XRP saw a rapid crash, and caused pain among those who bought at the top. 
$XRP top buyers on Coinbase down 30% in 15mins. pic.twitter.com/97mohlaBT3

— Hsaka (@HsakaTrades) November 24, 2020
That said, it followed a rapid comeback, currently trading at USD 0.667, up 23% in a day, 121% in a week, and 168% in a month. It is still down from the USD 0.766.
But can be the cause in such price increase of Ripple.
Among the recent events, Ripple announced their partnership with UK-based financial services provider MoneyNetint.
Earlier this month, Ripple Labs filed a trademark with the United States Patent and Trademark Office for a new product called Paystring, intended to cover the categories of electronic financial services, monetary services for receiving and paying out money, exchanging fiat currencies and virtual currencies.
Ripple price could also have benefited from the success of their partners.
Congrats on a very strong quarter! Proud to be a partner in MGI's digital growth transformation. There's no doubting the network's growth and benefits for consumers. https://t.co/SPvNx05duk

— Brad Garlinghouse (@bgarlinghouse) October 30, 2020
Additionally the other reason in price increase is the event  approaching on December 12, 2020. Where an airdrop of 45 billion Spark tokens to XRP holders of non-custodial wallets by blockchain platform Flare Network will be rewarded. This mega event is backed by Ripple's investment arm Xpring, rebranded as RippleX.
According to Flare, 28 exchanges are currently supporting the airdrop.
Ripple has also posted a vacancy to recruit a Senior Director for Central Bank Engagements. The clearly indicates that the company plans to increase its focus on digital currency initiatives.
Meanwhile, others argue that people are buying XRP because they cannot afford BTC.
It's the Oh-man-bitcoin-is-so-expensive-but-hey-that-XRP-sure-looks-cheap-I-have-no-idea-what-it-is-but-I'll-buy-some-of-that pump

— ₿rooke (@bitcoinmom) November 24, 2020
More comments:
Look I get it, you can trade $XRP and make money, congratulations. I'm sure there is also money to be made in like liquefying orphans as fuel for street lamps or something, but you have to have a line you are not willing to cross.

— kain.eth (@kaiynne) November 24, 2020
JUST IN: US FEDERAL RESERVE ABANDONS DOLLAR, NAMES XRP NEW RESERVE CURRENCY

— green (@redxbt) November 24, 2020
Read More:
Follow Us on Twitter and Facebook.
Disclaimer: This content is informational and should not be considered financial advice. The views expressed in this article may include the author's personal opinions and do not reflect The Crypto Basic's opinion. Readers are encouraged to do thorough research before making any investment decisions. The Crypto Basic is not responsible for any financial losses.
-Advertisement-